This is the Congressional Voting Record on issues that the Alliance for Retired Americans feel our important for Retired Americans.
How your Senators and Congressman voted on these issues

Machinists Fighting Back Against Right to Work for Less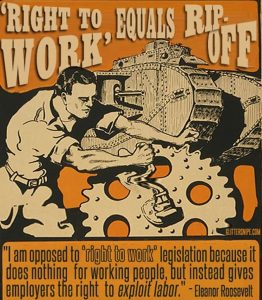 As the battle against "right-to-work" laws heat up across the country, some IAM members have gone into full "Fighting Machinist" mode. In the past two weeks, legislators in Missouri, New Hampshire, Kentucky and even West Chester Township, Ohio have either passed or are in the process of passing the anti-worker legislation.
IAM member and Missouri AFL-CIO President Mike Louis is working to turn the table on Missouri lawmakers by filing several versions of an initiative petition that would amend the state constitution to protect union negotiating rights. The amendment would reverse "right-to-work" laws by granting employers and employees the right to negotiate contracts requiring all employees to pay fees cover the costs of union representation.
Township trustees in West Chester, Ohio are working to pass a resolution to make the township a "right-to-work" community. IAM Local 1943 President and Directing Business Representative Neil Douglas is taking a stand against the trustees of the township where he lives.
"West Chester needs to be focused on other things besides stomping down worker's rights for a voice in the workplace," Douglas told WLWT-TV during an interview this week.
"The push for so-called right-to-work laws has nothing to do with giving workers the freedom to choose," said Eastern Territory General Vice President Jimmy Conigliaro, Sr. "It is the influence of big corporate special interests to cut wages, weaken the middle class, and taking away the tools  unions have to defend the rights of working families. The IAM, our members, and working families across the U.S.A. will continue to push back against anti-worker legislation wherever it rears its ugly head."
Expect to see more of these legislative battles waged against unions all over the U.S. Contact your local or district to find a way to get involved and let your lawmakers know "right-to-work" is wrong for your state.
What's Happening to Your Health Care: 3 Things to Know Right Now
02/16/2017
Shaun O'Brien
There is definitely lots of talk about how President Donald Trump and Congress are planning to make major changes to Americans' health benefits. That's because Trump and Republican leaders in Congress have said that repealing the Affordable Care Act is one of their top priorities. Although it is not clear when they will act or exactly what they will do, here are three things to know right now:
1. Your health benefits are at risk, no matter where you get them:
Medicare: A straight-up repeal of the ACA would eliminate some Medicare benefits by reinstating the full Medicare prescription drug donut hole and taking away free preventive care. House Speaker Paul Ryan (R-Wis.) is still pushing his plan to turn Medicare into a voucher system, meaning benefits would no longer be guaranteed and health costs for seniors and people with disabilities would go up dramatically.
Workplace Health Benefits: Kevin Brady (R-Texas), the powerful chairman of the tax writing committee in the U.S. House of Representatives, wants to tax part of the cost of workplace health benefits by including the cost in working people's taxable income. So does the person Trump hired to be in charge of health care, Health and Human Services Secretary Tom Price. If you get your health benefits on the job, this will raise your taxes and lead to even higher deductibles and co-pays. Some employers could even cancel their health plans in response.
Health Insurance You Buy Yourself: Most media coverage is focused on what impact repeal of the ACA will have on the approximately 10 million people who now buy individual health coverage through the ACA's health insurance marketplaces, often with the help of federal tax credits. A straight-up repeal of the ACA would not just take away the tax credits that help people buy health insurance. Full repeal also would eliminate the ACA's protections that require insurance companies to treat people fairly, to give them meaningful insurance without tricks and traps, and not to discriminate against anyone because they have a pre-existing condition or even because of their gender.
Medicaid: Medicaid is the health plan run by states with significant federal funding that enables 74 million people to get the medical care they need. One-in-three kids in the United States get their health coverage from Medicaid or the Children's Health Insurance Plan. Millions of seniors and people of all ages with disabilities also count on Medicaid for nursing home care and the long-term supports and services that allow them to live independently in their homes and communities. A straight-up repeal of the ACA would take health coverage away from some 11 million people who now have benefits because the ACA allowed states to expand Medicaid. Trump and Republican leaders in Congress also want to cut Medicaid for everyone who receives it by imposing new limited caps on what the federal government will contribute, even if the cost of health care keeps going up much faster than prices in the rest of the economy. That will shift costs onto states and likely force cuts in benefits.
2. People are speaking up, and that's having an impact on Washington: Lots of people are showing up to meet with their members of Congress about health care and to let them know just how important it is to them personally. Many people are asking their members of Congress tough questions. For example, check out this article about a Tennessee high school teacher who attended a town hall and watch the video showing her tough question for Rep. Diane Black (R-Tenn.), Meet the Teacher Whose Powerful, Christian Defense of Obamacare Made a GOP Town Hall Go Viral. The hard questions and strong show of concern from voters are affecting what's going on in Congress. What once was a mad dash to repeal the ACA right away has slowed to a crawl for the moment, and there now is a split among Republicans in Congress. While many congressional Republicans still want to repeal the ACA immediately regardless of whether they have a replacement, at least a few are saying they want to figure out what the impact will be on real people and how they might address the harm that will do.
Sign up to receive AFL-CIO Now blog alerts
>>
3. We're still waiting to hear what the plan for repealing and replacing the ACA is: In mid-January, Trump said he had a plan that was finished except for some finishing touches and that he was just waiting for Price to be confirmed by the Senate as his HHS secretary. Price was confirmed last Friday, so maybe we will see his plan soon. Congressional Republicans are still trying to figure out what their plan should be. Some Republicans want to go ahead with repeal of the ACA now and figure out whether and how they might replace it later.
TAA Program Certifications, Benefits, and Services under the TAA Reauthorization Act of 2015
The Trade Adjustment Assistance Reauthorization Act of 2015 (TAARA 2015), title IV of the Trade Preferences Extension Act of 2015 (Public Law 114-27), was signed into law by President Barack Obama on June 29, 2015. These amendments reauthorize the TAA program for six years, and change the group eligibility requirements and individual benefits and services available under the Trade Adjustment Assistance (TAA) program since January 1, 2014. TAARA 2015 also amends the Internal Revenue Code to provide a new version of the Health Coverage Tax Credit (HCTC) benefit for TAA program participants.
OVERVIEW OF CERTIFICATIONS UNDER TAARA 2015
The certification provisions of chapter 2 of title II of the Trade Act under the TAARA 2015 (2015 Program) are retroactive to January 1, 2014, and apply to all petitions filed during that period, which are designated with a series of numbers from TA-W-85,000 through TA-W-89,999. Petitions that were certified under the Reversion 2014 Program will retain their designated petition number and retroactive provisions for individual benefits and services for workers in groups certified under the Reversion 2014 Program will take effect 90 days after enactment (September 28, 2015).
The Office of Trade Adjustment Assistance (OTAA) will investigate new petitions filed after June 29, 2015, under the 2015 Program certification criteria which are identical to the 2011 Program criteria, and will establish a new petition series number beginning with TA-W-90,000.
Automatic Reconsideration for Denied Petitions
OTAA will automatically reconsider negative determinations (denials) of petitions filed on or after January 1, 2014, and before June 29, 2015, under the series number beginning with TA-W-85,000 through TA-W-89,999, and will conduct a full investigation under the certification criteria of the 2015 Program. If the worker group meets the certification criteria of the 2015 Program, OTAA will certify the group of workers as eligible to apply for benefits and services under the 2015 Program. Click here to see a list of those denied petitions THESE PETITIONS WILL NOT HAVE TO BE RESUBMITTED.
Pending Investigations
OTAA will continue to investigate petitions filed while the Reversion 2014 Program was in place, under the series number beginning with TA-W-85,000 through TA-W-89,999, where a determination has not yet been made and will issue determinations for these petitions under the certification criteria in effect under the 2015 Program.
Certifications of Worker Groups that did Not Submit Petitions Between January 1, 2014 and June 29, 2015 – Petitions Filed From June 29, 2015 through September 27, 2015 (2015 Program) – EXPIRED
Worker groups that did not submit petitions between January 1, 2014 and June 29, 2015, but wish to be considered under the group eligibility for workers based on the 2015 Program may file a new petition within 90 days. This would include service sector workers as well as worker groups whose jobs are adversely affected by trade from countries that are not parties to Free Trade Agreements (FTAs) with the United States, including China and India. While all petitions filed on and after June 29, 2015, will be investigated under the 2015 Program worker group eligibility criteria, the TAARA 2015 provides that for petitions filed by MIDNIGHT (12:00AM EASTERN TIME), SUNDAY, SEPTEMBER 27, 2015, that are certified, the certification will cover all members of the worker group who are separated or threatened with separations during the period beginning January 1, 2014, instead of a beginning date of no more than one year before the date of the petition, and generally ending two years after the date of certification. Each of those certifications will describe the worker group and specify the January 1, 2014, beginning date and the ending dates of the certification period.
– THIS HAS EXPIRED; PLEASE SEE NEXT SECTION FOR PETITIONS FILED ON AND AFTER SEPTEMBER 28, 2015.
Petitions Filed On and After September 28, 2015 (2015 Program)
For petitions filed after the first 90 days (beginning September 28, 2015), OTAA will continue to investigate these petitions under the 2015 certification criteria and the certifications will cover all members of the worker group who are separated or threatened with separations during the period beginning no more than one year prior to the date of the petition (instead of January 1, 2014) and generally ending two years after the date of certification.
OVERVIEW OF BENEFITS AND SERVICES UNDER THE 2015 PROGRAM
TAARA 2015 repeals the sunset provision of the Trade Adjustment Assistance Extension Act of 2011 (TAAEA) , under which the Reversion 2014 Program has been in effect since January 1, 2014. Operating Instructions were issued to administer benefits and services under the 2015 Program that addressed the transition of workers from the Reversion 2014 Program to the 2015 Program.
Questions and Answers for 2015 Program operations are located here.
TAA offers a variety of benefits and services to support workers in their search for reemployment. This includes Trade Readjustment Allowances, training, assistance with healthcare premium costs, Reemployment Trade Adjustment Assistance, employment and case management services, and may also include job search and relocation allowances.
Trade Readjustment Allowances (TRA)
Trade Readjustment Allowances (TRA) is available to continue to provide income support while you are participating in full-time training. The amount of each weekly TRA payment is based on the weekly unemployment insurance (UI) benefit amount you already have received. You must have been entitled to receive UI benefits before you may receive TRA and you must have exhausted your UI entitlement.
There are three types of TRA: Basic TRA, Additional TRA, and Completion TRA.
Basic TRA is payable if you are enrolled or participating in TAA-approved training, have completed training, or have obtained a waiver of the training requirement. The total amount of Basic TRA available will be calculated by multiplying your UI weekly benefit amount by 52 and subtracting the total sum of UI received. Therefore, if you have already received at least 52 weeks of UI generally you will not be eligible to receive any Basic TRA. You may still receive Basic TRA even if you are not in training, if you obtain a waiver of the training requirement from your State. Under the 2011 Amendments, states may no longer issue waivers on the grounds of Recall, Marketable Skills, or Retirement. The three remaining grounds for which states can issuewaivers are:
Health: you are unable to participate in or complete training due to a health condition; or
Enrollment Not Available: no enrollment in training is available within 60 days; or
Training Not Available: no training program is available in which you can enroll.
Additional TRA is payable only if you are participating in TAA-approved training and have exhausted all rights to Basic TRA. Additional TRA may be payable for up to an additional 65 weeks after the exhaustion of Basic TRA or after the period for Basic TRA eligibility during which you received UI, but only if you are enrolled in an approved training program.
Completion TRA (an additional period of up to 13 weeks of income support) is payable only if you are participating in TAA-approved training and have exhausted all rights to Basic TRA and Additional TRA. Assuming you meet the other TRA eligibility requirements, you may qualify for up to 13 weeks of Completion TRA whereall of the following five additional criteria are met:
The requested weeks are necessary for you to complete a training program that leads to completion of a degree or industry-recognized credential; and
You are participating in training in each such week; and
You have substantially met the performance benchmarks established in your approved training plan (you have maintained satisfactory academic standing and are scheduled to complete training within your training plan's specified timeframe); and
You are expected to continue to make progress toward the completion of the approved training; and
You will be able to complete the training during the period authorized for receipt of Completion TRA
Training
Allowable types of training include: classroom training, on the-job training, customized training designed to meet the needs of a specific employer or group of employers, apprenticeship programs, post-secondary education, prerequisite education or coursework and remedial education, which may include GED preparation, literacy training, basic math, or English as a Second Language. The cost of training is paid to the training provider by the State with TAA Program funds.
Training may be approved on a full-time or part-time basis, although full-time training is required in order to meet TRA eligibility requirements. Workers covered by a certification may enroll in a TAA-approved training program when they are still working but have been threatened with a lay-off.
To receive training paid for under this program, you must meet the following six criteria:
No suitable employment is available.
You would benefit from appropriate training.
There is a reasonable expectation of employment following completion of training.
Training is reasonably available.
You are qualified to undertake and complete such training.
Training is available at a reasonable cost.
Health Coverage Tax Credit (HCTC)
See IRS website for information regarding HCTC.
Reemployment Trade Adjustment Assistance (RTAA)
These benefits are available if you are age 50 or older and you do not earn more than $50,000 annually in your new employment. If you qualify, participation in RTAA allows you to receive a wage supplement when you accept new employment at a lower wage.
RTAA payments may total 50% of the difference between your old and new wages, with a maximum of $10,000 paid over a period of up to two years. If you are receiving RTAA, you also are entitled to receive employment and case management services and are eligible to apply for HCTC, and you may be eligible to enroll in TAA-approved training. Workers may qualify for RTAA when working part-time, employed at least 20 hours a week, and participating in a TAA-approved training program. You may choose between receiving TRA or RTAA (even if you have received some TRA payments), but you may not receive both payments concurrently or receive TRA after receiving a wage supplement.
Employment and Case Management Services
This additional set of services offered by your state include:
Comprehensive assessments of skill levels and service needs
Development of an individual employment plan (IEP) to identify employment goals and objectives
Information on available training and counseling, and how to apply for financial aid
Short-term prevocational services, such as development of learning skills, communications skills, interviewing skills, etc.
Individual career counseling
Provision of employment statistics relating to relevant market areas
Information relating to the availability of supportive services
Job Search Allowances
This monetary benefit is available at the discretion of your state. It covers necessary expenses incurred while seeking employment outside your normal commuting area if employment in a good job, where you are likely to remain employed and earn family-sustaining wages, is not available in your area. Job search allowances reimburse 90% of the costs of allowable travel and subsistence, up to a maximum of $1,250. An application for a job search allowance must be submitted before your job search begins, and within 365 days of your layoff or certification (whichever is later), or within 182 days after the conclusion of training.
Relocation Allowances
This monetary benefit is available at the discretion of your state. It reimburses you for approved expenses when you must move to a new area to earn family-sustaining wages in employment outside of your normal commuting area. Relocation allowances may include 90% of the reasonable and necessary expenses involved in moving you, your family, and household goods to a new area following your re-employment outside of your normal commuting area. In addition, you may receive a lump sum payment equal to three times your average weekly wage, up to a maximum payment of $1,250. You must submit an application for a relocation allowance before your relocation begins, and within 425 days of your layoff or certification (whichever is later) or within 182 days after the conclusion of training.
Appeal Rights for Benefits and Services
All TAA benefits have different deadlines and individual eligibility criteria. Once certified, you must meet the criteria for each benefit to receive that benefit. If you are dissatisfied with the decisions on your individual application for TAA benefits, you have the same appeal rights as those provided under your state's UI law. The written notice that you receive after filing your applications for each benefit will explain your appeal rights and time limits for filing appeals under state law. For state contact information, please click here.
Other Training Opportunities and Reemployment Services
Rapid Response assistance is provided by the Dislocated Worker Unit in the state where you were laid off to groups of workers on whose behalf a petition is filed. Rapid Response staff will make employees aware of the different services available to workers after a layoff, and if provided before a petition is filed, will include information on the process of petitioning for certification under the TAA program. Learn more about Rapid Response.
Also, if you do not qualify for TAA benefits, you may be eligible for services under the Workforce Innovation and Opportunity Act (WIOA) Dislocated Worker program or other programs accessible through your local American Job Center.
Contact Information
United States Department of Labor
Employment and Training Administration
Office of Trade Adjustment Assistance
200 Constitution Avenue, N.W., Room N-5428
Washington, DC 20210
Phone: 202-693-3560 or 1-888-DOL-OTAA (1-888-365-6822)
Fax: 202-693-3584 or 3585
Web site: https://www.doleta.gov/tradeact
American Job Center Locator
http://www.servicelocator.org
ETA Toll-Free Helpline – (877) US-2JOBS (877) 889-5627 (TTY)

Reality tempers optimism in coal country after ruling
MADISON, W.Va. (AP)
MADISON, W.Va. (AP) – The U.S. Supreme Court has delivered a commodity that is hard to come by in coal country: hope.
Hope that by blocking a new federal rule cutting power-plant emissions, the court has turned the tide after years of regulations and declining production. Hope that the jobs that once brought good wages to people who desperately needed them will come back.
However, these hopes have been tempered by another, grimmer thought – that this development might be too little, too late. That it's false hope.
For the long-suffering communities that depend on coal, last week's Supreme Court ruling was seen as a rare victory. The justices ruled 5-4 Tuesday to freeze the Environmental Protection Agency's plan to reduce the nation's carbon-dioxide emissions 32 percent by 2030 while legal challenges against the regulations are pending.
Those regulations, a key component of President Barack Obama's plan to fight climate change, focus on cutting pollution from coal-fired power plants and are viewed as a possible knockout blow to a staggering industry. The high court's surprising decision to issue a stay even before the Court of Appeals heard the case was seen by many as an indication it was hostile to the regulations.
To Joshua Johnson, 29, the Supreme Court's ruling was as welcome to him as a sunny day in spring in southern West Virginia. He still wears his Independence Coal mine jacket two years after he was laid off, as he struggles financially to take care of his three kids full-time since his divorce.
"I'd love to get back underground today," he said. "Coal will open back up. I think once we get a new president, coal will come back up. I think he was just so against coal."
For elected leaders of both parties in coal-producing states, "Obama" has been the easy answer to why the coal jobs are going away. So it's no wonder that the Supreme Court's ruling was hailed by politicians as a "real ray of hope."
"Things are not going to change overnight but we have an opportunity to have a comeback now," West Virginia Attorney General Patrick Morrisey said. "This is the decision we've been waiting for and now we get to move forward and try to put people back to work."
But the reality is more complicated. Pointing out that free-market forces – higher mining costs, decreasing demand and cheaper natural gas – are dragging production down doesn't pack as much of a punch as roasting the White House's environmental initiatives.
U.S. Rep. Hal Rogers, whose district comprises most of coal-producing eastern Kentucky, acknowledged the Supreme Court's action may not be enough, even if the courts overturn the EPA regulations.
"Certainly the decision is favorable. But much of the damage has already been done," said Rogers, the longtime chairman of the House Appropriations Committee. "Many of these coal-fired power plants have already switched away from coal. And it would be very expensive to switch back."
Some of the nation's largest utilities started making the switch even before Obama's Clean Power Plan was announced about two years ago. They saw how the long-term trends stacked against the industry: Cheap natural gas, a declining global market and decades-old pollution laws just coming into play.
Meanwhile, output from coal mines across the U.S. continues to drop. Production is projected to total 834 million tons this year. That would be the smallest amount mined since 1983, and a 17 percent drop from just two years ago, according to data released this week by the U.S. Energy Information Administration.
American Electric Power, which has 5.4 million customers in the South and Midwest, generated 74 percent of its power using coal a decade ago. That's down to 51 percent, spokeswoman Melissa McHenry said.
"The company was based in coal country. The fuel was there," McHenry said. "Now things have changed and we're looking to diversify our fuel mix."
AEP will retire 11 coal plants by the end of 2016 in a process that started last year. The utility wanted to avoid the cost of retrofitting the aging facilities and is putting its money instead into alternatives such as electricity from natural gas and wind turbines.
Duke Energy Corp. the largest electric company in the U.S. serving 7.3 million customers across the Southeast and the Midwest, has spent $9 billion over the past decade to scrap a quarter of its coal-burning capacity and build eight new natural gas plants in North Carolina, Florida and Indiana, along with two more efficient coal plants.
Similar changes are underway in the West. Washington-based Puget Sound Energy is pushing legislation that would enable it to close down two of the four power-generating units at one of the largest coal plants west of the Mississippi, the Colstrip Steam Electric Station in eastern Montana that the utility co-owns.
Despite these trends, industry supporters say the stay of the Obama administration's plan prevents an even harsher future for coal, at least temporarily.
If implemented, the federal rule would drive down mining production from the largest coal state, Wyoming, between 20 to 45 percent by 2030, according to a 2015 report by the Center for Energy Economics and Public Policy at the University of Wyoming.
"Anybody who tells you that the Clean Power Plan wasn't all that important anyway either doesn't understand the industry or is being a little disingenuous," said Jeff Holmstead a former EPA official turned coal industry lobbyist. "There still may be retirements in coming years, but it will be nothing like what would have happened."
On a recent morning, two long coal trains snaked their way through Madison, West Virginia, surprising Ronald Nelson, who was holding court at the Barker Hardware store.
"That's not happened in months," he said.
The longtime railroad engineer estimated in Boone County alone, the railroad runs 75 to 150 carloads of coal each day, compared with up to 2,500 per day several years ago.
The appearance of those two trains doesn't shake Nelson's belief that what's done is done, and that the Supreme Court's actions will only delay coal's downward spiral.
"It's inevitable," he said, before adding: "I hope it's not."
That ambivalent pessimism is shared by miners and former miners who have stared down the black hole of the industry's future and aren't convinced that a stay of execution by the Supreme Court is likely to last.
The black soot on Jason Ferrell's face from a long night of mining was as dark as the cloud hanging over his future. The 32-year-old Alpha Natural Resources miner was among hundreds who had received layoff notices in recent months. His time with the company could be over at the end of March.
He's lived in Chapmanville his entire life, but now he and his wife are asking themselves questions they never thought they'd have to consider.
"I know my wife won't move," Ferrell said. "But I'll have to go somewhere."
For him, it's clear what will happen if the courts don't permanently block the federal emissions rule.
"If they don't overturn it, I think coal will be gone," he said.
IAM to Congress: 'Don't Call Us' if You Vote for TPP
IAM Legislative and Political Director Hasan Solomon recently delivered a stern warning to members of Congress who are on the fence about the latest job-killing trade and economic deal, the Trans-Pacific Partnership (TPP):
"Now I want you to hear me loud and clear: Any member of Congress, whether you are a Democrat or Republican that supports this agreement, don't call the Machinists Union for political contributions and don't call the Machinists Union for help during the election season," Solomon told a crowd of labor, environmental and faith activists on Capitol Hill.
Instead, Solomon said to, "call Vietnam, where you are sending our damn jobs!"
IAM Assistant Legislative and Political Director Bruce Olsson testifies before a U.S. International Trade Commission hearing on the Trans-Pacific Partnership.
IAM members are standing strong against the secretly-negotiated trade pact, which includes the U.S., Mexico, Canada and 10 Pacific Rim nations, many of which have egregious human and workers' rights records. From trade and food safety to Wall Street regulations and prescription medicines, the TPP threatens to write the rules in favor of the world's largest corporations, all while the world's workers are shut out of negotiations.
Existing trade rules like NAFTA and the U.S.-Korea deal are already costing the average U.S. worker $1,800 a year, according to the Economic Policy Institute. A Tufts University study indicates the TPP will make that figure even worse.
TAKE ACTION: Tell Congress to Save Jobs, Vote No on TPP
At a recent U.S. International Trade Commission (ITC) hearing on TPP, the IAM stood with other unions in pointing out the deal's many flaws, including a lack of enforceable labor standards, an undermining of "Buy American" rules and no language curtailing currency manipulation. A report from the Labor Advisory Committee, chaired by former IAM International President Tom Buffenbarger, says the TPP fails to deliver on all but one of 15 key objectives for working people.
"The Trans-Pacific Partnership represents one of the most flawed trade agreements ever negotiated," IAM Assistant Legislative and Political Director Bruce Olsson told a six-member ITC panel. "If implemented, it will threaten the continued existence of the U.S. manufacturing sector, and in doing so, threatens the U.S. economy."
Former IAM International President Tom Buffenbarger, left, administers the oath of office to new International President Bob Martinez, Jr. (Photo by Bill Burke / Page One Photography)
Bob Martinez, Jr., officially became the 14th International President in the IAM's 127-year history after taking his oath of office at IAM Headquarters in Upper Marlboro, MD. Martinez takes over for former International President Tom Buffenbarger, who retires after more than 18 years as the IAM's top officer.
AFL-CIO President Richard Trumka looks on as Bob Martinez, Jr. is sworn in as the IAM's new International President. (Photo by Kaveh Sardari / Page One Photography)
Martinez will serve the remainder of Buffenbarger's current four-year term, which concludes July 1, 2017. Former Southern Territory Special Representative Rickey Wallace was sworn in to take Martinez's place as Headquarters General Vice President. Click here for photos of the ceremony.
"I am mindful that I stand on the shoulders of giants," said Martinez, who was surrounded by Buffenbarger, former IAM International President George Kourpias, AFL-CIO President Richard Trumka and members of the IAM Executive Council.
Martinez thanked his predecessors, pledged to safeguard the interests of the IAM members and vowed to make the tough decisions necessary to propel the IAM into a future that promises to see a continuation of attacks on working people.
"Our greatness and potential as an organization arises from our membership," said Martinez, a Texas native and 35-year IAM member who served in the U.S. Navy. "I will never forget that, nor where I came from."
"We live and work in an incredibly difficult and challenging time," continued Martinez. "From every corner, we and the work we do are under fire. The challenges we confront are real and they are substantial. However, I am confident about our future and our ability to do good work and make a positive difference in the lives of our members and working people across the United States and Canada."
Buffenbarger made his mark on the IAM by committing to organizing, financial stability and making the IAM's leadership team one of the most diverse in the labor movement. He steps down as the longest-serving International President in IAM history.
"I have been humbled to serve this great union," said Buffenbarger. "The reason we're here today is because the members of this union enabled us with the gift of leadership. This Executive Council takes that gift very seriously."
AFL-CIO President Trumka was on hand to welcome Martinez into his new role.
"The leadership of the IAM is more needed now than it has been in decades because of the relentless and well-financed attacks on working people every single day," said Trumka. "We need your leadership and we look forward to working with you and supporting you."
Joy Global News
By RICH JACKSON Managing editor
Joy Global will phase out five departments in its Franklin and Reno plants, affecting dozens of union and management jobs.
Randy White, a vice president of operations for underground mining, made the announcement Monday in the Franklin and Reno plants.
The affected departments include:
— Final assembly, which builds the final product before shipping
— Electrical assembly
— Large components
— Field repair workers
— 1A, which deals with sub-assembly, including gear housings
White didn't announce a time line for the phasing out of the departments, said a source at Joy in Franklin.
The estimates of the number of people affected has varied so widely that neither the company nor union could estimate the job loss. Caley Clinton, a spokeswoman for Joy, said negotiations are continuing between the parties and concrete numbers can't be determined at this time.
Joy Global business and that of other mining machinery manufacturers has suffered as China's economy cooled. That has produced a glut of coal worldwide as well as a stockpile of minerals in Australia and other mineral-producing companies.
White did not take questions during the announcement Monday and said some matters remain to be decided.
The company is working with the Union of Joy transition team and the union to finalize some decisions.
The news wasn't as bad as Friday's announcement at Joy's plant at Brook Park, Ohio. The company announced it would phase out the entire plant within the next year, killing about 250 jobs. That plant did large machining for the Franklin plant.
Sources who attended Monday's meeting said White made it clear that none of these jobs would return to Franklin and Reno.
One employee said it has been clear for some time that these actions were going to happen.
"A lot of these jobs are gone and won't be back," the source said. "We worked hard to get this trade act (which is helping with retraining and education) because we could see the writing on the wall."
That sentiment was echoed by all sources interviewed for this story.
White told those gathered for the meetings that business had been difficult for some time. Despite optimistic forecasts that a rebound in coal and minerals was just around the corner, it never happened.
That, White said, caused the company to make some difficult decisions.
Clinton, who works at the Joy Milwaukee headquarters, said the company is working to streamline operations worldwide.
White said four companies that do business with Joy have declared bankruptcy this year.
One source from the union said Alpha Natural Resources did considerable business with Joy. Alpha declared Chapter 13 earlier this month, citing $4 billion in debt.
Mike McFetridge, a retired member of Local Lodge 1842, has published a book. Below is Mike's biography. The book may be purchased from Amazon.com. Here is the link:
http://www.amazon.com/s/ref=nb_sb_noss?url=search-alias%3Daps&field-keywords=+Cabin+on+the+Mountain+by+Michael+L.+McFetridge&rh=i%3Aaps%2Ck%3A+Cabin+on+the+Mountain+by+Michael+L.+McFetridge
Biography of Michael L. McFetridge
      Michael L. McFetridge has lived his whole life in Northwestern Pennsylvania enjoying its beautiful four seasons. He is one of 6 kids and is actively involved in the church he attends. Michael is married to his best friend Jerrilyn of 40+ years and has five children, many grandchildren, & great-grandchildren. Recently retired from a factory of 40+ years affords Michael the opportunities to pursue his interests in hunting, fishing, and writing as well as other things, including his love for country music which is a big part of the Cabin on the Mountain series.
" I started writing officially in 2006 and when a new motion picture company started up around 2007 to make wholesome, feel good again movies I joined up and submitted my story. Members from all over the world could vote on all of the submissions and grade them by such things as value, resolution, overall story, quality, etc. Of all the many stories the members submitted, the top 23 submissions were decided on. My story, "Cabin on the Mountain" ended up in 2009 on the shortlist coming in at number 3. I was elated at the thought of having my story made into a movie, but that excitement was short-lived when the economy went sour and this motion picture company lost its backing. Members were assured that this company would find new funding and we stayed vigilant waiting for that day to come, but it never did."
My reasoning for writing this series of books is geared toward reaching out to our youth. I had worked in the psychiatric unit of a hospital for several years and served as a scoutmaster for Boy Scout troops for over 15 years spending my time in many cases with troubled youth. The youth really need positive role models and taught correct principles including respect for their elders and for people who serve our country.
It is my hope and prayer that if something I have written has helped one youth in a positive way, then I have accomplished what I set out to do in my writings.

Trans-Pacific Partnership Free Trade Agreement (TPP)
The United States and 11 Pacific Rim nations—Australia, Brunei Darussalam, Canada, Chile, Malaysia, Mexico, New Zealand, Peru, Singapore, Vietnam and Japan—are negotiating the Trans-Pacific Partnership (TPP) Free Trade Agreement.
This trade agreement presents the Obama administration with an opportunity to reform U.S. trade policy so it helps U.S. businesses export goods, rather than outsource jobs. The president can deliver a new trade model for the 21st century—one not modeled on the North American Free Trade Agreement—that creates jobs, protects the environment and ensures safe imports but only if negotiations include provisions that will benefit U.S. workers, not simply the largest global corporations. Negotiations are largely secret—but what little evidence is publicly available does not indicate the agreement is likely to break new ground for working families.
The AFL-CIO has provided the administration with ideas about how to improve the U.S. trade positions so they work for the 99%, not just the 1%. Unfortunately, it is an uphill battle; the global corporate agenda has infused trade policy with its demands for deregulation, privatization, tax breaks and other financial advantages for Big Business while shrinking the social safety net in the name of "labor flexibility."
Global businesses that reap the benefits of U.S. trade policy want the TPP to look like prior "free trade agreements" as much as possible. And while negotiations are not yet complete, the publicly available information is concerning for workers: it looks as if, once again, the global corporations are having too much influence in the process. And working families may once again get left behind.
Fast Facts on Fast Track
The AFL-CIO Opposes the Baucus-Hatch-Camp Fast Track Legislation (S. 1900/H.R. 3830).
What Is Fast Track?
Fast Track is a policy that gives the executive branch the opportunity to negotiate—out of public view—as many trade agreements as it can during a given time period and send them to Congress, which may then only vote yes or no on the agreement: it may not amend the agreement or its "implementing bill," nor may it send the agreement back to the executive branch with instructions for improvement.
Why Is Fast Track Bad for Workers?
Working people know the danger of such a process: no trade deal, no matter how bad, has ever been defeated under Fast Track procedures! So the minute the negotiators have the Fast Track ticket in their hands, they know they are free to agree to provisions that will send jobs overseas, reduce the bargaining power of workers, jeopardize important environmental or health and safety regulations and give global corporations even more influence over our economy (and our trading partners' economies, too).
Since the North American Free Trade Agreement (NAFTA) went into effect in 1994, workers across North America—including in Mexico—have experienced downward pressure on wages and a tougher organizing environment. Unscrupulous employers in the United States, Canada and Mexico have played workers against each other, threatening to move jobs to another country if the workers didn't accept pay and benefit cuts. The result, 20 years later, is an unbalanced system in which profits soar even as workers take home a diminishing share of national income. In 2012, the U.S. goods trade deficit was $730 billion. Trade policies adopted under Fast Track have cost us millions of jobs, have contributed to more than 60,000 factories shutting down and have exacerbated rising income inequality here in the United States and around the globe.
The Bill's Sponsors Say It 'Strengthens and Improves Existing Law.' Does It?
NO. There is no existing Fast Track law. The last Fast Track law—the one used to negotiate and advance the Colombia and Korea trade agreements—expired in 2007. Any trade bill moving forward should focus on creating trade deals that work for workers. That means: reducing our trade deficits, improving the ability of workers to organize and bargain for better wages and working conditions and implementing trade and economic policies that help countries raise their standards of living for all. Because Fast Track creates a closed process in which the public has little ability to influence the outcome, no Fast Track bill will improve the absence of such a law—we need a new approach requiring a democratic, accountable negotiating process.
The Bill's Sponsors Say It 'Updates Negotiating Objectives for the 21st Century.' Does It?
NO. The trade negotiating objectives in the bill advance the deregulatory agenda that has already harmed working families and make no improvements in labor and environmental standards over the "May 10," 2007, level (the provisions achieved in the Bush-era Peru agreement). These "May 10" provisions were supposed to be a mere stepping stone to more robust protections that would level the playing field and help ensure workers the right to freely organize and bargain. The bill includes no trade negotiating objectives on job creation, trade deficit reduction, protecting "Buy American" policies or even rules of origin (to promote the export of goods "Made in America"). It even includes objectives that would interfere with the ability to provide affordable, life-saving medicines. In short, the trade negotiating objectives are an outsourcer's wish list but leave America's working families behind.
The Bill's Sponsors Say It 'Addresses Currency Manipulation.' Does It?
Not really. Although there is a new subsection on currency manipulation, the objective does not, by its own terms, call for enforceable standards. "Reporting" or "cooperation" would be enough to satisfy the terms of the negotiating objective, leaving sole authority to address currency manipulation with the executive branch that has refused, year after year, to even name China as a currency manipulator.
The Bill's Sponsors Say It Ensures that Trade Agreements 'Meet the High Standards Necessary for Congressional Approval.' Does It?
Unfortunately, and due in large part to prior Fast Track legislation, congressional standards for trade deals are not very high at all. NAFTA was passed with weak and unenforceable labor and environmental side deals, and the World Trade Organization (WTO) had no labor or environmental standards at all. The most recent trade deals to become law included a deal with Colombia, a country in which nearly 3,000 labor leaders and activists have been assassinated since 1986, and Korea—a country with which we have an increasingly lopsided trade deficit. Under the very low standards of the Korea deal, cars that contain only 35% Korean content can enter the United States duty-free. To really have "high standards" trade deals, the American public must have more say—and that means no Fast Track.
The Bill's Sponsors Say It 'Keeps Congress in Control of Implementing Bills' and 'Provides a Strong, Comprehensive Disapproval Process.' Does It?
NO. The bill provides little opportunity to reject bad deals—and leaves the president in control of drafting the implementing bill. Baucus-Hatch-Camp creates no formal process requiring Congress or any independent body to evaluate the deal to ensure that it will have a positive impact on the U.S. trade balance, create good, family-wage jobs or ensure that state and local governments can continue to protect their residents' water, air and other natural resources. Even when a deal fails to meet the bill's negotiating objectives—the trade agreement can still benefit from Fast Track's "no amendments/little debate" privileges. The bill only requires that the president "make progress in achieving the purposes, policies, priorities and objectives of" the bill. And even if a member of Congress files a resolution of disapproval, stating that progress was not made, that resolution can be permanently bottled up by a single committee in either the House or the Senate, ensuring that Fast Track privileges apply to a bad deal.
The Bill's Sponsors Say It 'Protects U.S. Sovereignty.' Does It?
NO. The bill continues to expose U.S. laws and regulations to challenges by other countries—the United States already has lost a challenge to its anti-smoking policies and has had to revise its country of origin meat labeling and dolphin protection policies to comply with trade obligations. Even worse, the bill continues to provide extraordinary legal rights and privileges to foreign investors (known as investor-to-state dispute settlement or ISDS)—rights and privileges that home-grown businesses do not share. Multinational corporations have used similar provisions in other agreements to attack anti-smoking laws (in Australia), clean air (in Peru) and water (in Canada) policies, land use decisions (in Mexico) and even a minimum wage increase (in Egypt)! What will they attack next?
The Bill's Sponsors Say It Will 'Promote Global Value Chains.' What Does this Mean?
According to the bill's own promotional material, the bill will promote "U.S. participation in global value chains and ensure that trade agreements reflect the increasingly interrelated and multi-sectoral nature of trade and investment activity." U.S.-based workers already have felt the impacts of such global integration for years. Without strict rules and responsibilities for global corporations operating outside the United States (none of which are included in the bill), these "value chains" are just fancy words for offshoring production to places with weak labor and environmental laws and enforcement. The result has been a race to the bottom in terms of wages, benefits, working conditions and pollution. And it will continue to be so until trade deals ensure that corporations are responsible for labor, environmental and health and safety violations anywhere in their supply chain. This Fast Track bill doesn't do that.
In short, the Baucus-Hatch-Camp Fast Track bill doesn't live up to its promises. It is a license to continue the same failed trade and economic policies that have left working people behind for the past 20 years. America's workers are sick and tired of trade policy made by and for the 1%—trade policy that does nothing more than shrink our paychecks and make it less likely that our children can climb the ladder of success. This article was published by the AFL-CIO.
If you want to know about the latest information on the TPP watch this video.


United mine workers President spars with Chris Hayes over coal and climate change.
Watch this video: http://www.msnbc.com/all-in
 
Local Lodge 1842 took action to support Tom Wolf for Governor of Pennsylvania. The general election will be held Nov. 4th, make sure you get out to vote.

68th annual Pennsylvania State Council of Machinists
June 9 2014
Opening remarks by, President Obie O'brian
International President, Tom Buffenbarger
This recent election was a big ordeal and a big expense to this union. I am humbled and happy about the Pennsylvania support. This ordeal started in January 2013 (nominations) A woman got endorsement of 3 lodges out of the 25 needed to run in the election but filed a complaint with the DOL that 26 lodges failed to do their jobs by not telling members about Grand Lodge elections. The challengers got 42 local lodge endorsements in their second effort. They launched attacks on current leaders and under DOL regulations the incumbents cannot respond. Challengers can tell all the bs they want. This strife started in 2008 with Boeing workers that went out on strike for 8 weeks. Members ratified a contract and went back to work. Boeing built a plant in South Carolina; Machinist union challenged this because Boeing said it was because machinists went on strike every three years. IAM filed DOL charges on behalf of the members it was settled with Boeing guaranteeing planes to be built in Seattle, Wa. The IAM develops relationships in every state to stay ahead of corporate relocations to destroy unions, like Boeing moving to Ill out of Seattle. IAM went to Boeing and negotiated an 8 year extension to the contract to keep the work in Seattle. The IAM spent $5 million on elections plus local lodge expenses. Our union has always elected its leaders by direct vote by the membership. The Government wanted us to change .. We told them to "F" off. The challengers wanted to take away your right to vote on your contract, leave it to your leadership to vote on your contract. Protecting your jobs IS our #1 priority. The Challengers wanted us to close the Winpinsinger center because it costs us $2300 a week per member. We believe educating our members is our greatest investment we could make in our members. Today your union is financially sound, and progressive. We are the envy of the Labor movement. At the 2008 convention we overhauled the dues system to guarantee our future. The UAW just increased their dues 25% their health care system is almost broke they are looking to the AHCA for health insurance. They transferred $25 million out of their strike fund to entice people into early retirement to get them off of their insurance. We encored $100 thousand in costs associated in bad addresses, we are working on fixing that.
AHCA parts of that harm our members like the "Cadillac tax" taxing benefits our members negotiated to get. It is a 40% tax. We believe in universal health care, this isn't it. There was a threat by the teamsters to revise the law to allow reductions to pension pay outs to members already retired. It passed the House of representatives. Tom Hawk in the Senate chair of the democratic committee is protecting those pension benefits. That is why we are in politics to protect what you have.
TPP NAFTA hurt us all, this is worse. Sending jobs to Vietnam, Malaysia, Bangladesh, Japan. This will crush this country, We support issues that support working people. We urge you to prioritize your issues (abortion, gun control, marriage equality forget about those)these issues are distractions to direct you from the real agendas.
General Secretary Treasurer, Robert Roach
This leadership is awesome. On 9/11/2001 the world changed. We had emergency special Meeting asking members for solutions, many locals submitted proposals to be decided in 2008 at the convention asking members how we survive. Boeing strike took $50 million out of our strike fund. The interest off from the strike fund kept the William Wipisinger, III center funded. IN 2010 Buffenbarger and Roach developed policies and procedures to protect our union. We went from the brink of bankruptcy in 2006 to # 3 in the finance to member ratio. We are currently training successors today we are the most powerful, influential labor organization in the world. Get leadership involved if you are unsure of something. If you get a questionable motion take it, question with an auditor to see if it is legal to spend local monies in that way. We work for you, you don't work for us. We are looking for a governor's endorsement vote smart. Not for some Jesse Ventura. Before you vote look at your family, vote for ideals that best represents you and your values.
The law says your union can negotiate and ratify your contract, The IAM constitution says you ratify your contract, you vote for your leadership. We protected that. Educate new members, organize new members, and talk to your friends and neighbors about Union. They need to understand who we are. Buffenbarger developed consolidations with other labor organizations that make us the most powerful organization in America.
GVP, Lynn Tucker,
Last 6 years workers came through 2007-2008 deemed "the great recession" 200 to 800 thousand jobs lost every month. Health care under attack, Pension under attack, Congress did not understand what was going on. The PBGC is the government ran pension guarantee insurance. Who insures it? AIG that's why the 128 billion dollar bail out. There is legislation in the works that would allow trustees to reduce pension benefits by 50% this is being pushed by the teamsters, their pension plan is in trouble they want to drag us all down with them. College students graduate today with an average debt of $80 thousand. The housing market is suffering because of it, they can't buy a home, they are moving back with Mom and Dad.
Rick Bloomingdale, Pa President AFL-CIO
The dues check off rally they expected a couple hundred people to show up… 2,000 people rallied the state capitol building in protest. Took the republicans by surprise. The executive board is voting Thursday to support Tom Wolf for governor.
Debbie Coulton, Human Trafficking
Oasis of Hope a non-government backed religious based program privately funded to help female victims of human trafficking. Takes up to $300 thousand a year to operate their house. Pa has an "F" grade in trafficking includes laws and agencies dedicated to stopping or preventing it, and support for victims.
Bill Surtell
We are losing focus in politics, our priority should be jobs! From 2006 to 2014 we lost 6 million jobs just now getting back to pre-2006 levels. The population has increased since then currently we are 16 million jobs short now. Legislation is essential to maintain pensions, if we get a republican controlled senate they will allow the 50% reduction in pensions. Either parties jobs program falls short both contain three key features which are flawed. 1) cut taxes for the rich (trickle-down economics) 2) manipulate interest rates lower (trouble is they are almost nothing now) 3) Government (state and federal) employ displaced workers with works programs (government is too broke too broke do this).
There is over $3 trillion (private monies) sitting waiting to invest. The progressive caucus proposes taxing rich and big business, a transaction tax of .003% on stock purchases would generate billions of dollars to rebuild infrastructure.
Pat Smutney, Grand Lodge auditor.
After the elections we are finding that DOL investigating several lodges. The election auditors were friendly for a reason, they were feeling for clues, reasons to dig deeper.
New program "Bookworks" was developed in house to help simplify trasnsactions. Audits need done 2 times a year and must be signed by all auditors. If contacted by DOL contact grand lodge auditors we are here to help you.
Dale Hartford, Guide dogs
Your Guide Dogs graduated 52 teams last year. 4.5 million dollar a year budget. Building a new building to allow for environment to properly do what they do. This was funded by an individual investment of over $3 million. Pa State council raised just over $5 thousand again this year to sponsor another puppy this year.
Sito Pantjoa, GVP transportation department
Carrier CSX is in process of renewing its fleet. They came to us to open negotiations to discuss needed flexibility to do incidental work. Basically if in process a mechanic neeed to unhook a wire he could, or vice versa. They are rebuilding locomotives over 1200 in Huntington, Va. paying about $37 hour. They are looking to hire around 1,000 members
Spirit airlines, organizing drive on now. They have had no pay raise in 5 years, the ramp workers voted to organize.. they gave everyone a raise of $1.80/hr except ramp workers.
Delta Airlines- flight attendant, with the TWU and IAM alliance takes place we will have one agent for all.
Steve Sleigh, IAM benefit trust fund—funded at 104% has been responsible with your money.
Rick Poulson, WWD attorney. Reviewed FMLA act
Tom Wolf, democratic candidate for governor.
Not a carreer politician, a businessman. Pro worker, businesses need to do the right thing by their workers. Pro-coal, pro taxing shale gas. Fix the pa state pensions, don't cut or eliminate them. Stop outsourcing state jobs. He is a business man believes in a good comparison for workers, need to re-build middle class.
Rick Delefunte,
We need to defeat Corbett, send a strong message to republicans! Rick over viewed politics across the country.
Jim Burns, Chair Pa Democratic Party
Over the next 6 months the republican national party will dump millions into re-electing Corbett and the republican agenda. Corbett took us from 7th in the nation to 49th for job creation. He gutted our education system, He is pushing to privatize education and other state jobs. Pushing an issue called the paycheck protection act, also pushing right to work agenda. He recently changed his mind to not challenge the voter id issue and also declined to pursue the marriage equality ruling. He has just recently looked into UPMC and Highmark issues years after it had affected many Pennsylvanians. He has temporarily left his Conservative position to put on a face for this election. He has not even talked to moderate republicans for over 3 years. He has consistently cut education budgets to gain power less education to gain power.
Frank Snyder, Recording secretary AFL-CIO
TPP is NAFTA on steroids, Free trade always hurts US. Workers. Tom Wolf is a good candidate but needs an assembly he can work with. According to the US bureau of statistics unionized workers earn $200/week more than non-unionized. Stand up for your union with your co-workers, Families, and others. If you don't like your union do something about it, get involved. The key is to get out and vote.
In closing the PA council of state machinists voted unanimously to endorse Tom Wolf for Governor in the PA fall election.
Submitted by Dave Ferry.

 Group for laid-off Joy workers to host booth at career fair
Posted: Thursday, March 27, 2014 3:00 am | Updated: 4:45 am, Thu Mar 27, 2014.
By JUDITH O. ETZEL Staff writer
A team of representatives from organizations intent on assisting persons who have been furloughed from their jobs is sponsoring an information center focused squarely on that mission at the annual Oil Region Job/Career Fair next month.
The 16th annual fair, sponsored by the Oil City-based CareerLink office, will be held from 10 a.m. to 4 p.m. April 9 at the Cranberry Mall.
Inside mall corridors lined with employers and educators at the mall will be a designated area where an array of services and tips will be shared with area residents who have been laid off their jobs.
It is sponsored by the Union of JOY transition team, organized initially in response to ongoing layoffs in 2012 and 2013 at Joy Mining in Franklin.
The group, comprised of labor union representatives, laid-off Joy employees, CareerLink personnel, a state RapidResponse official, Oil Region Alliance and United Way, is intent on providing community resources to displaced workers.
The JOY reference now goes beyond the Joy layoffs and is an acronym for "Jobs, Opportunities, You," said Deb Lutz of the Oil Region Alliance of Business, Industry and Tourism.
Lutz and Lance Hummer of the Keystone Community Education Council are co-chairmen of the Union of JOY transition team.
"We want to give people the information they need to survive during a dislocation, a loss of a job," said Hummer. "At this information center, anyone who has lost a job or been laid off from any workplace can get the details they need on what help is available."
On tap will be representatives from community agencies, state and county organizations, health care options, training opportunities and others.
While the Union of JOY transition team has expanded beyond Joy layoffs at the Franklin and Reno plants, the information station will offer information specific to that employer. An individual representing the International Association of Machinists (IAM) union from Joy will discuss various employee benefits as well as benefit restrictions for dislocated workers at that plant. Guidelines and deadlines for training offered through a federal trade program approved for Joy workers will be explained.
"What we want to offer are answers and opportunities to a dislocated worker who has a specific question or issue," said Lutz. "For example, for a Joy employee who was laid off but since been recalled, can he or she still pursue training or educational options through the trade program? And, what is the deadline to do that?"
In addition, resources for area supply and service businesses that have experienced repercussions because of the Joy slowdown will be outlined. There is a federal program in place that helps companies that have experienced job cuts or a drop in sales as a result of changes in Joy operations.
The Union of JOY presence at the Job Fair is designed to complement what will be offered at the CareerLink-sponsored event.
"We are trying to get across to dislocated workers how imperative it is for them to know their benefits and then tap into them," said Hummer.

by: SPECIAL TO PEOPLESWORLD.ORG
january 28 2014
HARRISBURG, Pa.– Thousands jammed the streets around the State Capitol building here today to protest the latest in a sting of attempts by state Republicans to kill union rights for public workers and eventually all workers in Pennsylvania.
Busload after busload of workers arrived from around the state, filled the streets and marched into the Capitol building itself where, reminiscent of the historic Wisconsin protests, they packed the rotunda in the center of the building.
They protested House Bill 1507, what the right wing American Legislative Exchange Council (ALEC) and the Koch brothers call a "Paycheck Protection" bill. They have already been targeting direct mail into the state to spread lies in support of this bill, claiming that taxpayers are paying for union dues collection for public employees, and that teachers and state workers are forced to contribute to political and legislative activism.
The facts are clear, the Pennsylvania AFL-CIO says, even though you won't hear them in the commercials that the Koch brothers are financing. Automatic payroll deduction of dues is not mandated by any law, rather it is bargained for during contract negotiations. This deduction does not cost taxpayers money. Unions already agreed to reimburse the state for costs associated with deductions of PAC funds, but according to the State of Pennsylvania, there is no measurable cost to be reimbursed.
The Republican goal is obvious, unions say. The legislation would force unions to spend resources to collect union dues, and make it nearly impossible to collect the fair share fees that non-members must pay to cover their union representation. At the end of the day that means unions will be weakened, and have less ability to advocate for employees in the workplace and in the legislature. This would open the floodgates for a wide range of anti-worker legislation that would be sure to follow.
"There is no doubt that the passage of HB 1507 would mean that Pennsylvania would become the next right to work state" the Pennsylvania AFL-CIO said in a statement it issued. " Don't be silent on this issue. We expect this bill to move very quickly, with significant resources flooding into Pennsylvania to back this latest attack on the middle class."
Photo: Frank Snyder, Pennsylvania AFL-CIO
Labor unions pack Pa. Capitol over paycheck bill:
William Hamilton, the president of the Pennsylvania Conference of Teamsters, speaks at a rally in the Capitol Rotunda. AP photo
Posted: Wednesday, January 29, 2014 3:00 am

HARRISBURG (AP) – Labor unions packed the Pennsylvania Capitol for a raucous rally Tuesday as they widened their fight over legislation that aims to prevent the state, school districts and local governments from deducting union dues and political action committee contributions from the paychecks of unionized workers.
The Capitol Rotunda was so full that police forced many more union demonstrators to wait outside in the single-digit temperatures.
No vote on identical House and Senate bills has been scheduled. But the fresh memory of major Republican-backed legislation to weaken union rights passing in fellow northern industrial states has spurred unions to aggressively lobby rank-and-file Republicans and to assail the legislation as an "attack on workers' rights" led by out-of-state billionaires and conservative groups that do not disclose their donors.
"If you watched what happened in Wisconsin and Michigan, it was far too late when it got to the House," William Hamilton, president of the Pennsylvania Conference of Teamsters, told the packed rally. "We're on time."
Gov. Tom Corbett, a Republican, has said he would sign the bill while leaders of the Republican-controlled Legislature have been publicly noncommittal, perhaps reflecting their divided ranks.
With conservative groups lobbying for the bill, Senate Majority Leader Dominic Pileggi, R-Delaware, said Tuesday it lacks the support to pass right now, with some Republicans opposed or undecided. He will, he said, bring it up for a vote if it can pass.
Democrats staunchly oppose the bill, and some, including state Treasurer Rob McCord, a prospective Democratic candidate for governor this year, spoke at the rally.
Members of private-sector unions also streamed into the Capitol or waited outside in the bitter cold in what they called a show of unity.
"They're coming after our friends," said Lou Acampora, president of the International Brotherhood of Electrical Workers Local 380 in the suburban Philadelphia town of Collegeville.
The union demonstrators took some shots at Corbett, who will be targeted by some unions this year as he runs for a second four-year term.
The House bill's sponsor, Rep. Brian Cutler, R-Lancaster, has framed it as built on the principle of getting government out of the taxpayer-funded activity of collecting money that is put toward a political use.
It would prevent unions from negotiating the automatic deductions into labor contracts, forcing the unions to spend money and time collecting the tens of millions of dollars in contributions from hundreds of thousands of teachers, state employees and other public-sector union members.
Unions counter that they have offered to pay for the minimal cost of setting up the deductions and that other groups, such as the United Way, benefit from public-employees' paycheck deductions.
That the bill is supported by this historic opponents of organized labor has made the confrontation that much more bitter.
The legislation has broad support among conservative groups and major business associations, and some looked on at the rally, hanging a sign from a balcony that read: "This political protest was funded by union dues and collected with taxpayer resources."
Some supporters link the legislation to their broader goal of making Pennsylvania a so-called right to work state where employees in unionized workplaces would not have to pay union dues as a condition of employment.
Other supporters argue that the automatic deductions give unions an unfair advantage over rival groups that raise campaign cash.

Event slated for businesses affected by Joy slowdown
Story:
Posted: Monday, January 13, 2014 12:00 am
By JUDITH O. ETZELStaff writer
The slowdown in manufacturing at Joy Mining in Franklin has had a ripple effect in other area companies that supply goods and services to Joy.
That has prompted two local organizations to sponsor an event on Jan. 23 that is designed to provide information on a federal program that can offer marketing and sales help, grants, e-commerce, training and more to those businesses.
"We know there are smaller supply chain companies that have been adversely affected because Joy relied on a lot of subcontractors," said Deb Lutz, vice president of economic development at the Oil Region Alliance of Business, Industry and Tourism.
"We want to offer information and help to any regional company that has an affiliation with Joy, either supplying or receiving products or services. This is for the employers."
Joy has been approved to participate in the federal Trade Adjustment Assistance program.
While the major part of the trade act focuses on providing an array of help to furloughed Joy employees, a second part is aimed squarely at helping smaller supply companies where business has suffered, either by job cuts or drop in sales, because of the downturn of business at Joy.
A session to outline what may be available to those employers who do business with Joy is set from 10 a.m. to noon Thursday, Jan. 23, at the National Transit Building in Oil City.
Free to employers
The informational meeting is open free to employers. The list of those businesses is lengthy and includes local machine shops, electronic technology firms, welders, fabricators, electrical assembly shops and more.
"You have to demonstrate that you have been negatively impacted, whether with layoffs, loss of business or loss of a competitive edge, during the last 18 months," she said. "And, it includes all those companies that may be impacted down the road."
The trade act allows for funding ($75,000 that an employer must also match), business planning, ISO and other certifications, engineering and design, business planning, software/hardware evaluation, custom programming, management and employee development, e-commerce and more. There are no fees and the federal program completes all required paperwork.
"This is all kept confidential. There is no condition as to the size of a company or to where it is geographically in the area," said Lutz.
One-on-one help slated
A key part of the Jan. 23 session goes beyond the information stage.
There will be one-on-one help offered to enable an employer "to start the grant process immediately without having to schedule something else with somebody else," said Lutz.
Four speakers will outline the trade act provisions as well as offer personal assistance.
They are: Bill Bujalos, director of the MidAtlantic Trade Adjustment Assistance Center that administers the trade act for a seven-state area; Bob Value, assistant director of the Strategic Early Warning Network; Beverly Rapp, Rapid Response coordinator/Department of Labor and Industry; and Susan Hileman, district director of the Northwest Industrial Resource Center.
The Jan. 23 program is being coordinated by Deb Lutz at the Oil Region Alliance and Lance Hummer at the Clarion Education Council.
Seating is limited and registrations are due by Friday, Jan. 17, to Lutz at 677-3152 (dlutzoilregion.org) or Hummer at 677-4427 (lhummercsonline.net.
"If you are even curious about what may be available, this program can answer those questions and get the process started for a company," said Lutz.
This article was in the Local Derrick newspaper. Make sure you read this as it pertains to all Local 1842 members who have been laid off.
Furloughed Joy employees hear benefits of federal assistance program:
Story
Posted: Tuesday, December 31, 2013 2:40 am | Updated: 3:30 pm, Tue Dec 31, 2013.
By Judith O. Etzel Staff writer
Scores of Joy employees who have lost their jobs, been furloughed from their posts or face a possible layoff at the mining manufacturing company's plants in Franklin and Reno, got an earful Monday at sessions focused on a new federal assistance program.
"Our endgame is that we want to get you all employed," said Pam Watkins, manager of the Oil City-based CareerLink jobs center, during one of two meetings held Monday at the Franklin VFW post. "… Everyone in this room has a marketable skill."
The 10 a.m. and 1:30 p.m. meetings, open to about 400 affected workers at Joy, were designed to outline provisions in the federal Trade Adjustment Assistance program. In late November, the U.S. Department of Labor approved a request for help from the International Association of Machinists (IAM), District Lodge No. 98.
The IAM labor union represents about 825 workers at Joy, the largest private employer in the region. .
The trade program provides an array of services and programs that includes funding, job search help, training, education and more. The target group includes Joy employees, as well as seasonal Joy workers, who were furloughed, permanently lost their jobs or who may be furloughed during a specific period of June 15, 2012, to Nov. 26, 2015.
It is 'a 'game-changer'
Jerry Hanna, a longtime Joy employee who is laid off and has been working with a Union of Joy coalition aimed at helping area residents who have lost their jobs, told the group, "This trade act is the game-changer … to give you opportunities. And we do have opportunities through this."
In offering a comprehensive and complicated outline of what is available to Joy employees, Bev Rapp, regional Rapid Response coordinator for the labor department, said benefits within the trade act are those that "will really make a difference in people's lives."
Joy employees off the job roster are designated as "dislocated workers, meaning you lost your job through no fault of your own," said Rapp.
Among the benefits provided through the designation are:
–Employment and case management services (skill assessments, career counseling, supportive services).
–Training (up to 130 weeks of full- or part- time training).
–Allowances (up to 130 weeks of wage subsidies for workers enrolled in full-time training).
–Re-employment help (wage subsidies for up to two years to workers age 50 or over who are re-employed at a wage lower than their Joy pay).
–Job search allowance (reimbursement for job search costs such as food, lodging, transportation).
–Relocation allowance (reimbursement for a job outside of local area, including moving expenses).
Expertise on hand
Monday's gatherings went beyond the explanation of benefits to offer on-site registration help, answers to specific questions and more. The hands-on approach was deliberate, said Rapp.
"We will do a lot of paperwork today. So instead of doing this over four separate meetings in which you have to keep coming back, we are going to do it in one and a half hours instead," said Rapp.
To accomplish that fast track, representatives from CareerLink offices serving Venango, Clarion, Warren, Forest and Crawford counties were on hand at the VFW hall. Unemployment specialists as well as career counselors were also there.
Hauling in staff to the sessions was vital, said Watkins.
"This is not meant to just be informational," she said. "This gets it started because we want these people to get engaged in the process. There are time limits in this."
While the information about trade act assistance was voluminous, many questions on specific issues will have to be handled on a personal level, said Rapp.
"A lot of times the answer to a question will be 'it depends,'" she said. "The important thing is always to check with your CareerLink office and your union guys about your rights as well as your opportunities."
Variety of workers
In the morning and afternoon sessions Monday, the audience of Joy workers was predominately male. The ages ranged from college-age to senior citizens. Length of time at Joy included anything from two years to 40-plus years.
"People in their 50s and 60s – I hear them worry about being between a rock and a hard spot," said Pete Kluck, a 43-year employee at Joy and president the IAM Local. "Joy had a good record of hiring older workers and in some departments, they are all older people. … I know many Joy people, older or not, who will take advantage of this program. Not everyone will, but a lot will."
One local woman in her mid-50s said she is laid off from Joy and is finding the job search difficult.
"There is not a lot out there for people my age," she said, asking that her name be withheld. "We can't move because we own a home and my husband is employed. So, I guess, when you think about it, I'm really one of the lucky ones because we have an income."
A hiring spurt a few years ago at Joy resulted in a large entry class of young workers. Corey Emery of Callensburg said he was one of about 70 who was hired at the same time. He was furloughed from Joy in September 2012, "exactly two years to the day I was hired."
"I got a job in Lucinda but I hope to get knowledge at this meeting and then explore my options," said Emery. "I think a lot of people will take advantage of this program."
Four young Clarion County residents who lost their jobs at Joy were among those attending the morning session on Monday. They were Cameron Schettler of Shippenville, Jake Keister of Shippenville and Tyrell Schill of Lucinda, all laid off in July 2012, and Ben Aaron, furloughed in April 2013.
"I'm working at whatever right now because there is nothing out there. I would hope to get back to Joy," said Keister.
For Schill, age is a factor in moving on.
"We're lucky because we're young. So if it was going to happen, it's good that it happened when we are young. Now, I'm almost afraid to go back. I think you almost have to leave the area to find a steady, good-paying job," said Schill, who is starting classes in safety management at Slippery Rock University.

Information sessions scheduled to help furloughed Joy workers, others:
By Judith O. Etzel Staff Writer
A coalition focused on getting the word out about a wide array of benefits available to furloughed Joy workers and others has scheduled informational sessions to outline a new federal program.
The program offered through the federal Trade Adjustment Assistance program, made available as a result of a petition filed by the International Association of Machinists (IAM), can offer extended jobless benefits, education and training funds, health insurance tax credits and more.
Coordinating the federal program locally is the Union of Joy, a group organized a year ago to help area residents who had been furloughed from jobs at Joy as well as at other plants. It also pertains to individuals who face potential furloughs.
Specifically identified as potential recipients in the federal designation are Joy employees who either lost their jobs or were laid off or who may face job losses over a three-year period.
That interim is from June 15, 2012, to Nov. 26, 2015.
However, the declaration also covers Joy employees leased through two area employment agencies. In addition, workers at other companies that have been impacted by the slowdown at Joy's plants in Franklin and Reno may be eligible.
Meetings scheduled
Two forums will be held Dec. 30. They are set for 10 a.m. and 1:30 p.m. and will be held at the Franklin VFW building at 411 9th St.
A make-up session for individuals unable to attend the Dec. 30 meeting is set for 10 a.m. Jan. 10 at the Oil City-based CareerLink job service office.
The sessions are open to anyone who has been impacted or anticipates they will be laid off at Joy.
There is a second part of the Trade Adjustment Assistance program that extends benefits to non-Joy employees. It applies to the supply line and affects companies that provide goods to Joy as well as those who depend on Joy-made products.
Employees may be eligible for assistance in those companies that have experienced business drops because of a change in Joy production.
To address that, the Union of Joy coalition has scheduled a supply chain forum from 10 a.m .to noon Thursday, Jan. 23. No location has been arranged for that meeting.
Coordinating the federal program locally is the Union of Joy, a group organized a year ago to help area residents who had been furloughed from jobs at Joy as well as at other plants.
Some callbacks:
After an 18-month period of sporadic job layoffs that have affected more than 350 Joy employees, there has been a change this week in that pattern. On Tuesday, eight Joy workers in the structural department were called back to the plant.
The employee return comes after a three-week period of fewer than six layoffs.

Assistance programs will help area laid-off workers:
Posted: Tuesday, December 10, 2013 2:40 am | Updated: 3:30 pm, Tue Dec 10, 2013.
By Judith O. Etzel Staff writer
Just two weeks after learning a federal government program offering a major amount of assistance to furloughed Joy Mining employees and others had been approved, a coalition of Joy employees and others are hurrying to establish how those benefits will be offered.
On Nov. 26, a petition filed by the International Association of Machinists (IAM) for inclusion in the federal Trade Adjustment Assistance program was granted by the U.S. Department of Labor. IAM Local 1842 represents about 800 Joy employees at Franklin and Reno.
At stake is an assortment of extended unemployment benefits, funding for education and training, job seeking assistance, on-the-job training, health coverage tax credits, relocation expenses and more over a multi-year period.
The trade program covers Joy employees who either lost their jobs or were laid off or who may face job losses during the period of July 15, 2012, through Nov. 26, 2013.
The coverage is more expansive, though, as the assistance package also applies to workers at area businesses that provide goods and services to Joy and have been impacted by Joy's slowdown at Franklin. That roster includes Liberty Electronics and Matric, both local companies.
Meetings are planned
While all the paperwork for the initial declaration has been completed, a sense of urgency in opening up the benefits to individuals prompted a meeting Monday of the Union of Joy. The organization, comprised of Joy employees, CareerLink job service representatives, a state RapidResponse envoy and others, was created last year in response to local layoffs.
"This is great news. There's a lot of work to do now," said Deb Lutz, co-chairman of the Union of Joy and vice president of the Oil Region Alliance.
On Monday, the coalition received a listing of all Joy employees who have been furloughed since July 2012. Added to that list will be Joy employees who were leased to the company through the Manpower and All Seasons employment agencies. All those workers, estimated to number more than 350, are specifically included in the federal program.
Several steps have to be taken before individuals can begin to take advantage of the program, said Pam Watkins, director of the Oil City-based CareerLink office that provides job services.
"First, we will hold group sessions that will outline what benefits they are eligible for and what kind of help they can get for schooling," said Watkins. "That will get the paperwork going. Then, there will be individual interviews to determine eligibility."
Watkins and others were emphatic that "no one start anything just yet" in anticipation of potential benefits.
"Don't start school, keep the job you have – this is very complex and so before you do anything, check with us at CareerLink. And, go to these meetings," said Watkins.
The first group meetings will be held at 10 a.m. and again at 1:30 p.m. Dec. 30 at a site to be announced. A make-up session for individuals unable to attend is set for 10 a.m. Jan. 10 at the CareerLink office on Oil City's Elm Street.
Those sessions are open to more than those who are on furlough from Joy. One coalition member noted "anyone who has been impacted or anticipates they will be laid off at Joy " should attend. Letters will be sent out to those Joy workers whose names appear on a company-generated list of furloughed employees. The list will not be all-inclusive and individuals who may be entitled to benefits but who do not receive any correspondence should contact the CareerLink office at 678-5050.
Once the general sessions are held, the one-on-one interviews will be conducted at the CareerLink office.
"Those are the benefit rights interviews and setting those up needs to be done quickly," said Watkins.
Who else is eligible
There are other classifications, though, beyond the category of furloughed Joy employee.
A Joy worker may be anticipating a layoff and if so, he or she should go to the Dec. 30 session, with or without a letter. Individuals who lost their jobs at Joy and have taken another job may also be eligible for federal programs. Workers who are underemployed by virtue of an in-house job switch at Joy may also participate.
Greg Kiser, a Union of Joy member, asked whether the federal trade coverage could be expanded to include "about 100 Joy employees" furloughed prior to the July 15, 2012, coverage period. A state agency representative told the group there may be the possibility of an amendment that would include that group.
Included in the federal outline of services for affected workers is a another sector – the supply line.
Companies that provide goods to Joy as well as those who depend on Joy-made products may have felt the impact of Joy's slowdown. Those workers, too, may be eligible for help.
"Any company that has anything to do with Joy, upstream or downstream – we can help the company and those who are laid off. One goal is to help those smaller businesses improve their business and become more competitive," said one coalition member.
Pete Kluck, IAM Local president, said numerous sub-contractors provide parts to Joy. "We have to figure who that is and who can be helped," he said.
Kiser said he has heard from workers at some of those plants.
"I've been contacted by people in those businesses. Some, like Matric and Liberty, are inextricably tied to Joy," said Kiser.
A forum to identify those companies in the Joy supply chain will be held soon, probably in early January.
Some future CareerLink-sponsored forums will focus on specific topics related to the Trade Adjustment Assistance Act. An example, said Watkins, would be older workers who have lost their jobs or face furlough at a later date.
"We're looking at a big percentage of people at Joy who are over 50," said Watkins. "Their worry is 'who is going to hire me?' and so we will offer a workshop for those people on how to best market yourself. There are a lot of topics, and a lot of help, we can offer."
Also in attendance were Joy employees Brian Shorts, Jerry Hanna and Dave Ferry who is coalition co-chairman; district IAM business manager Tim Buck; Janet Klinger, Lance Hummer and Linda Schell.
Furloughed Joy workers to get some federal help:
From Staff ReportsStaff writer
Furloughed employees at Joy Mining, Venango County's largest private employer, are about to get substantial training, education and unemployment compensation help through a federal program.
The U.S. Department of Labor has approved a petition from the International Association of Machinists, the union that represents 600-plus machinists and others who work at Joy's plants in Franklin and Reno, to receive aid through the federal Trade Adjustment Assistance program.
In addition, the declaration extends to other companies in the region that are doing or did contract work on behalf of Joy. The listing includes local machine shops, technology firms and more that do business with the underground mining division.
Stung by two previous rejections for TAA help, the IAM District Lodge No. 98 applied a third time on behalf of Joy workers and was successful. Named as the petitioner was Timothy Buck, business representative with IAM District 98.
Prior to layoffs that began 18 months ago, the Reno and Franklin plants listed about 825 IAM-member workers.
"It's fantastic news, especially for people at this time of year," said Buck. "This is all by the grace of God. Our job is to protect our people and nothing comes easy. We kept coming up with more facts and it all came together."
Buck said his third application, a process in which "many people helped," applied to more people than Joy employees.
"It's called up and down the stream. This way, other companies will benefit, too," said Buck
Layoffs continue
The designation comes in the wake of a steady and worrisome series of job furloughs and job terminations at the Joy Mining plant, a division of Milwaukee-based Joy Global.
The heavy mining equipment manufacturer has laid off about 325 workers at its facility in Franklin and chain plant in Reno in the past year. In addition, more than a dozen supervisors have had their jobs eliminated in Franklin.
Last week, the layoff notices were minimal at about three, according to reports.
Joy Mining has refused to comment on its employment roster changes and has not responded to inquiries about the number of furloughs.
Imports, outsourcing
In plugging for the TAA aid, the union provided information related to foreign trade, imports and loss of jobs. Buck wrote on the TAA application that "production (is) being shifted to foreign countries" and listed "outsourcing … (and) increased imports" as hampering Joy operations.
Responding to the IAM petition, the Department of Labor noted the petitioners met its TAA criteria.
That included a significant number of workers who have been furloughed and are threatened to become furloughed; a decrease in sales or production (at Joy); an increase of imports of articles/services competitive with Joy's articles/services; and imports that have contributed to a drop in sales and production.
In granting the TAA assistance, the federal department specified that full-time, part-time and seasonal Joy employees who have been furloughed or are "threatened with total or partial separation of employment" are all eligible for help.
There is a specific time frame set out and it ranges from July 15, 2012, through Nov. 26, 2015. The latter date was pegged two years from the date of Nov. 26, 2013, when the petition was granted.
The benefits
Unemployment benefits will be extended to furloughed workers when they are participating in fulltime job training. Typically, the unemployment compensation runs six months.
The program will pay the costs for certain types of training, including customized training for specific jobs, apprenticeship programs, post-secondary education and remedial education. Workers can enroll in a training program when they are still working but have been threatened with a layoff. Until now, furloughed Joy employees have not been eligible for training assistance.
There are certain health coverage tax credits available.
Employment and case management services will be provided to help provide information on training, financial aid, professional services and more.
There could be monetary benefits to cover expenses incurred while seeking employment outside a normal commuting area. There may also be financial help for relocation expenses.
The details
Buck said the IAM's part in pressing for the TAA designation is now complete and another group will now step in.
It is an organization called the Union of Joy, a committee organized last year in response to local layoffs, including those at Joy Mining. All furloughed, unemployed and underemployed individuals from any local company were offered assistance in training, health coverage plans, job placement and more.
While the Union of Joy moved into a hiatus stage earlier this year, it is being re-energized in reaction to the TAA application approval. Next week, the committee intends to outline how, where and when TAA assistance can be accessed. One TAA/state program known as Rapid Response will provide professional services.
'A big deal'
Deb Lutz, vice president of economic development at the Oil City-based Oil Region Alliance of Business, Industry and Tourism, serves as co-chairman of the Union of Joy.
"This is a big deal – it represents training assistance for displaced workers if they want to move into a different career path. And, beyond that, it represents some hope and encouragement that there is something beyond the previous employment with Joy. It gives people an opportunity to explore new careers and education. And, the extension of unemployment (monies) is a huge benefit," said Lutz.
In addition to serving former Joy employees, the Union of Joy group intends to ensure that "the little machine shops and on up" that had contracts with Joy and have been impacted by the company's downturn in business will be able to participate in the TAA program.
More layoffs
Meanwhile, a Joy Global plant in Longview, Texas., furloughed employees last week.
A report in the Longview News-Journal said the company did not reveal how many workers had been laid off. It is the third round of employee furloughs this year at the facility that specializes in the manufacture of wheel loaders and feeder breakers for the mining industry.
In September, the Longview plant listed an employee roster of 1,026 people.
Great news!!
Tim Buck our Business Representative just received a letter from the Department of Labor on our TAA application. We have been approved to receive this benefit. This Monday Beverly Rapp will be scheduling meetings for the Trade Benefits. Below is the letter that was sent to the Business Representative.
RE: TA-W-82,908, Joy Technologies, LLC, Franklin, PA
Dear Timothy P. Buck:
The U.S. Department of Labor (Department) recently conducted an investigation in response to the petition for Trade Adjustment Assistance (TAA) that was filed on behalf of workers at the above referenced firm. Enclosed is a copy of a determination for Certification of Eligibility to Apply for Worker Adjustment Assistance under Section 223 of the Trade Act of 1974, as amended, which allows a worker to apply for benefits under the TAA Program. The Department posts electronic copies of determinations on the TAA Web site (http://www.doleta.gov/tradeact/ taa/taa_search_form.cfm) under "Search by Petition Number."
TAA Program benefits are available through your state. Upon receipt of this certification determination, please visit your local One-Stop Career Center to apply for benefits and obtain information regarding the TAA program. Because there are deadlines associated with applying for individual-level benefits, you are encouraged to contact your One-Stop Career Center in person or via the Internet as soon as possible. To obtain contact information of the One-Stop Career Center nearest you, visit http://servicelocator.org or call the toll-free help line at 1-877-US2-JOBS.
If you have any questions regarding this letter, please call the Office of Trade Adjustment Assistance toll free at 888-365-6822. Information about the TAA program is available through the TAA Web site at www.doleta.gov/tradeact.
Sincerely,
Norris Tyler III
Director
Office of Trade Adjustment Assistance
This is an issue brief from the IAM website on the TAA program. Please read.
ISSUE BRIEF
Trade Adjustment Assistance
The Trade Act of 2002 made significant changes to the Trade Adjustment
Assistance (TAA) program, although many laid-off workers still will not be eligible
for benefits. TAA provides income protection, health care benefits and job training for
qualified workers who lose their jobs as a result of import competition or shifts of
production overseas. Congress should continue to expand TAA, ensure the health care
benefit is fully available to TAA eligible workers and provide full funding for the
program.
In 2001, more than 215,000 workers were certified for assistance under the TAA and North American Free Trade Agreement (NAFTA)-TAA programs. Those numbers increased by about 50 percent in 2002. The Trade Act of 2002 consolidated NAFTA-TAA and TAA into one program while enhancing some of the benefits.
Workers can receive up to 78 weeks of trade adjustment allowances. Workers enrolled in remedial education can receive an additional 26 weeks of trade readjustment allowances. Workers must also enroll in a training program, unless provided with a waiver under certain conditions or unless they are eligible to enroll in the alternative TAA program for older workers.
Eligible workers also will receive a 65 percent advanceable, refundable tax credit for health care insurance. This health care benefit is also available to certain retirees receiving pensions through the Pension Benefit Guaranty Corporation. Congress should block efforts by the Bush administration to undermine the health benefit through the regulatory process.
Congress should enhance the health care benefit, because too many eligible workers will not be able to afford it. The average monthly TAA benefit for a laid-off worker is $870, while the average monthly Consolidated Omnibus Budget Reconciliation Act (COBRA) of 1985 health insurance premium is $650. That means that even with a 65 percent tax credit, a family would have to pay 26 percent (more than $220) of its monthly income to buy health insurance.
The Trade Act of 2002 includes an alternative TAA for older workers. Through this innovative wage insurance program, some workers older than 50 may receive 50 percent of the difference between the wages received from re-employment and the wages received at the time of separation.
Total payments cannot exceed $10,000 during the two-year eligibility period. An eligible worker also can receive a tax credit for health insurance costs but cannot receive any other benefits of the TAA program.
The TAA program is unfair to workers who lose their jobs to imports and shifts of production.
While a worker who loses a job as a result of a shift of production to Mexico may be eligible for TAA, a worker who loses a job to Chinese production might not. All workers who lose their jobs as a result of shifts of production should be made eligible for TAA. Broad categories of workers, including truck drivers, service contract workers, most workers for downstream producers and many other secondary workers are excluded from eligibility for TAA. These secondary workers should be made eligible for TAA benefits.
The TAA program currently has a funding cap that cuts off funding for training for some
eligible workers. States are likely to exhaust TAA training money, leaving many workers without job training opportunities and other TAA benefits. In 2002, at least 13 states exhausted their training funds, leaving an estimated $80 million shortfall in funding. The funding cap on TAA should be lifted.
TAA is no substitute for a good trade policy. Although Congress should make TAA improvements, the program is no substitute for a good trade policy that will protect and expand jobs in the United States. Ultimately, these laid-off workers need and want jobs
Coal miner's speech hits home at Count on Coal rally by Debbie Rolen
The most moving and passionate speech of the Count On Coal Rally for American Energy Jobs at Washington, D.C. this week was given by a member of the rank and file.
Dave Green is the Captain of a mine rescue team for Alpha Natural Resources and he came to Washington to make his voice heard for himself, his fellow miners and his industry.
Green began with a thank you for the hard-working Americans who came out to support the cause, then he spoke out, loud and from the heart as to the reason for his visit to the nation's capitol:
"I am honored to stand here today to represent coal miners. I am proud to be a miner and I am proud to be an American. Being here in Washington D.C. is a powerful reminder to me of what a great nation we are blessed to be a part of As I look around at the buildings and the monuments here I am amazed. The construction and the engineering in this city is a marvel.But the treasure of our nation is not the buildings or the monuments we've built.The true treasure of our nation is the great people that these monuments were erected to honor. Because there is no national treasure that compares to our American people.
I am here today to represent one group of those people — the coal miners. I'd like to clarify that I am a coal miner by choice. I'm not a miner by default because I'm from West Virginia, I have friends at home who are salesmen, engineers and doctors, but I'm a coal miner.
More specifically, I'm a mine rescue captain for Alpha Natural Resources. That's not a curse, it's not a prison, it's an honor. I'm no more scared underground than you are in your office. I'm vigilant and aware of the dangers that exist, just as you should be when you cross the street. I'm a professional, just like you are. I just get a lot dirtier. I think I have some coal mining buddies here today who know exactly where I'm coming from. A major role that we play with Alpha as a mine rescue team is training underground miners in various safety aspects of mining. For us, the motivation is not just loss prevention or to meet a requirement. For us, the coal miners that we train aren't just employees, they're much more than that. We know their names, we know their kids' names. They're our friends and they're our family members. For us, the motivation in training is the preservation of the life and health of our most valuable resource—our people.
Recently, our industry has been in a bit of a pinch, and while other industries in time of need have received a helping hand from our federal government, the hand that we've seen has been more of a fist.
Coal has played a crucial role in creating prosperity in the United States by providing affordable energy and now the EPA is putting our people and our economy at risk by proposing regulations for coal-fired power plants that are an under-handed attempt at crushing our vital industry.
To propose regulations that are too much and too fast for the industry to keep up with is nothing less than a way to take coal out of our nation's energy options.
I believe that renewable resources like wind and solar energy are excellent additions to our energy options but we all know that with existing technology, they are only able to provide a fraction of what is needed and so to propose regulations on our plants that aren't even based on current technology is a total gamble. It's a gamble with our economy. It's a gamble with our energy availability but most importantly, and worst of all, it's a gamble with our peoples' future. I believe in saving the trees. I believe in saving the polar bears and the whales. I believe in preserving our planet and our nation for the next generation but how can we do that if we aren't even willing to preserve our people.
At the heart of this discussion, we aren't arguing over climate change or proposed regulations, this is not just a plea for an industry, this is not a plea for the value of a mineral. This is a plea for our brothers and sisters who across this country are working hard in the dark to provide light to us all. This is a plea for people like Dave Moore who is so passionate about running coal that throughout the shifts that we work together, I can hear him yelling with such enthusiasm that it would make your hair stand on end (at least, if you hair, I guess). It is a plea for men like my Uncle Mike, who was seriously injured in a mining accident, but even after surgery and enduring crippling pain, he went back into the coal mine for round two. This is a plea for people like Rob Asbury, who was willing to lead a team of mine rescue team members into a coal mine while all others were trying to find their way out of the smoke. This is a plea for men like my dad, who I watched for nearly 20 years whether sick, tired or in pain pick up his lunch bucket, his hard hat, kiss my mom and go to work as an underground foreman because he loved his family and he loved his job. This is a plea for our people, for our families and for our children.
I would be remiss today if I didn't take the time to thank all you hard-working folks for coming out today and supporting coal. Our nation and our industry need more leaders like you with the courage and conviction to stand up for the future of our people because a lot of folks would like to say that coal mining is done, that it's a dying industry, but if there was ever a resource worth preserving, it's the coal miner. They don't stand in line waiting for a hand out They put their shoulder to the plow. They come home with coal dirt in their eyes and under their fingernails because they aren't afraid of an honest day's work. The miner is the epitome of the American worker. With a strong back and a big heart, they're providing an essential commodity to this nation.
In our quest to preserve our nation and preserve our planet, may we not fail and may we never forget to preserve our greatest resource, our greatest national treasure, our American people."
Check out this video it has a great message.
http://www.goiam.org/index.php/news/latest-videos/12074-an-unstoppable-force

Study: The coal industry is in far more trouble than anyone realizes
By Brad Plumer
Here's some bleak news for the coal industry: As much as 65 percent of the U.S. coal fleet could find itself under threat in the years ahead, thanks to cheap natural gas and stricter air-pollution regulations.
That's according to a new peer-reviewed study by three researchers at Duke's Nicholas School of the Environment, who take a detailed look at the costs of operating both coal-fired power plants and natural-gas plants around the United States.
Their conclusion? Coal power is far more economically vulnerable than most analysts have realized to date. Here's why:
Cheap natural gas is crowding out coal:
Already, a glut of cheap natural gas from shale deposits in Texas, Ohio, Pennsylvania, and elsewhere is upending the electricity sector. The researchers found that around 9 percent of the U.S. coal fleet has become uneconomical — it's now cheaper to burn natural gas for electricity than to keep running those coal plants, which are now slated for retirement.
The chart below sums up the ongoing shift quite vividly. Many coal plants are now operating at far lower capacity in 2012 than they were back in 2007:
And new pollution rules could accelerate that shift: But the shift to gas could become even more dramatic in the years ahead. Under the Obama administration, the EPA has been tightening various standards for air pollutants, including sulfur dioxide, particulate matter, and mercury. By 2016, power-plant operators will have to start installing costly new emissions controls at their coal units to comply with these rules. And that will further sway the economics of power generation.
By looking carefully at operating costs, the Duke researchers found that an additional 56 percent of the U.S. coal fleet could become more expensive than natural gas, assuming the ratio of gas prices to coal stayed around its current level. That poses a huge challenge to the coal industry — far bigger than previous analyses have suggested.
"That was the most surprising thing to come out of this analysis," says Duke's Lincoln Pratson, who led the study. "There has been a lot of focus on those 9 percent of coal plants set for retirement — mostly smaller, older plants. But what were seeing is that there are a very large number of younger plants that would become more costly to run than the median natural-gas plant if they were to upgrade their emissions controls."
That said, there are some caveats: That doesn't mean 65 percent of the coal fleet is set to shut down in the years ahead. This analysis all depends on a number of assumptions. First and most obviously, natural gas prices could start rising again — the early glut of gas from the fracking boom already appears to be leveling off. That would help many coal plants hang on.
Yet, surprisingly, Pratson and his colleagues found that natural gas would stay competitive even if the ratio of natural gas to coal prices rose from its current level of 1.7 to 4. "Even in that case, we wouldn't see the situation we had [in the early 2000s] where every coal plant was cheaper to run than every single natural gas plant," Pratson says.
The study makes a few other debatable assumptions as well. For one, it assumes that power plant operators will comply with the EPA rules by installing new emissions controls — rather than, say, buying allowances under cap-and-trade systems like the acid-rain program. On the flip side, the study doesn't take into account further potential EPA regulations on cooling water or coal ash. As such, says Pratson, the analysis is offering a "mid-range estimate" on coal's vulnerability.
As a side note, the study also helps referee a contentious political debate. During the 2012 campaign, there were two big theories for what, exactly, was killing the U.S. coal industry. Many conservatives blamed the EPA's air pollution rules, part of President Obama's "war on coal." Other analysts largely chalked it up to cheap natural gas — this was just the market at work.
This new study suggests that both are crucial factors, and tries to look at how, precisely, natural gas and the EPA will interact with each other in the years ahead.

This Week in Labor History:
Fair Labor Standards Act
The Fair Labor Standards Act of 1938 (abbreviated as FLSA; also referred to as the Wages and Hours Bill) is a federal statute of the United States. The FLSA introduced a maximum 44-hour seven-day workweek, established a national minimum wage, guaranteed "time-and-a-half" for overtime in certain jobs, and prohibited most employment of minors in "oppressive child labor", a term that is defined in the statute. It applies to employees engaged in interstate commerce or employed by an enterprise engaged in commerce or in the production of goods for commerce, unless the employer can claim an exemption from coverage.
The FLSA was originally drafted in 1932 by Senator Hugo Black, who was later appointed to the Supreme Court in 1937. However, Black's proposal to require employers to adopt a thirty-hour workweek met stiff resistance. In 1938 a revised version of Black's proposal was passed that adopted an eight-hour day and a forty-hour workweek and allowed workers to earn wage for an extra four hours of overtime as well. According to the act, workers must be paid minimum wage and overtime pay must be one-and-a-half times regular pay. Children under eighteen cannot do certain dangerous jobs, and children under the age of sixteen cannot work during school hours. There were 700,000 workers affected by the FLSA, and Roosevelt called it the most important piece of New Deal legislation passed since the Social Security Act of 1935.
Joy lays off 17 more at Franklin plant
By JUDITH O. ETZEL
Staff writer
Where's the story?
2 Points Mentioned
Job GlobalJoy Mining in Franklin is continuing to shed jobs.
Late Tuesday, 17 more employees were notified they are being furloughed.
All the newest layoffs affected members of the International Association of Machinists (IAM) union who work on the assembly, maintenance and electrical lines.
While the Milwaukee-based parent company Job Global will not comment on the layoffs, the total number of furloughs of union employees at the Franklin plant is about 132 since late August.
Added to that are the permanent job cuts for 12 supervisory posts at Joy's Franklin plant during the same period.
In all, the local Joy layoffs tally about 275 within the past year.
The number had been higher but was tempered by some employee callbacks.
Joy Mining is Venango County's largest private employer and draws employees from a wide Franklin-centered region.
There is considerable speculation the furloughs will continue as a result of a dramatic dip in international orders for coal mining machinery.
Less expensive natural gas is pushing coal demand aside and that has hit the coal mining industry hard.
In addition, an unexpected slowdown in China, a prime buyer of machinery, has impacted machinery sales.
Joy Global's order roster is off by one third compared to the same period last year.
Next week marks the end of Joy Global's fiscal year, and that accounting is expected to contain job losses for management-level personnel, including those at the Franklin plant.
chNs

Electoral Vote Scheme
Among the voter suppression efforts currently being tossed around by the state legislature in Pennsylvania are bills in both the Senate and House which would award Pennsylvania's electoral votes by congressional district in a presidential election, as opposed to the winner-take-all system that PA and 47 other states currently use.
So what does this mean? It means that the gerrymandering that has created republican-safe districts in the state would also impact presidential elections by ignoring the popular vote. In 2012, Obama won Pennsylvania by over 300,000 votes, or 5.4% – and he was awarded all 20 electoral votes from the state. Had the electoral vote scheme been in place, and every voter in PA had voted the same way, Romney would have been awarded 13 of PA's 20 electoral votes in spite of losing the popular vote!
Similar plans have been discussed, or bills have been introduced, in Wisconsin, Michigan, Virginia, and Ohio. All of these are states with Republican governors and legislatures which cast their electoral votes for Obama in 2012. If all of these states had this system in place for the 2012 election, Obama still would have won the election but Romney would have received 47 more electoral votes – that would stack the deck against future Democratic presidential candidates almost as much as it would to automatically award California (with 55 electoral votes) to the Republican candidate!
The fact that no red states have floated this idea is proof that the only motivation in these proposals is to siphon off electoral votes from Democratic presidential candidates.
How else would this affect Pennsylvania?
Pennsylvania would be rendered almost meaningless for presidential elections. Because redistricting has created so many safe seats (for Democrats in Philly, Pittsburgh, and Scranton, and for Republicans in the center of the state), the only electoral votes up for grabs in PA would be in the few swing districts, plus the two electoral votes that would be awarded to the statewide winner. That would make PA worth about as much as Rhode Island or West Virginia for a presidential candidate!
This scheme must be strongly opposed and soundly defeated in order to protect the integrity of democracy in Pennsylvania.
House Bill No. 94: Co-Sponsors Godshall, Grove, Kauffman, C. Harris, Barrar, Emrick, and Moul – Referred to committee on January 14h 2013.
Health care act isn't socialism in anyway
By Michael Smerconish
You know who should be angry about Obamacare? Real socialists. The tea party opponents of the Affordable Care Act promised them a government incursion that the new law does not deliver.
Think back to the rallies of 2009 and 2010. All those signs mocking President Obama with the word socialist emblazoned upon them were as common as Gadsden ("Don't Tread on Me") flags. But the health-care exchanges that launched Tuesday bear no resemblance to what Merriam-Webster defines as "a way of organizing a society in which major industries are owned and controlled by the government rather than by individual people and companies."
And actual socialists have noticed.
"Obamacare cannot be considered socialist in any way," according to Greg Pason, the national secretary for Socialist Party USA.
"The ACA program relies on private health insurance companies to manage health services," Pason said. "A socialized system would not include 'health insurance,' but would be an actual national health-care system which would be publicly funded through progressive taxation and controlled by democratically elected assemblies of health-care workers and patients."
He's right. Under the ACA, health insurance in America is still being delivered by private practitioners and paid for by private insurers. In fact, the vast majority of Americans who receive their health insurance from employer-paid plans will see no discernible change in their coverage or delivery, and need not access the exchanges. The only people who have to access the exchanges are the uninsured or those in the individual market (the 12 million to 15 million who purchase insurance for themselves). Soon, small businesses with 50 or fewer workers will go on the "SHOP exchange." Seniors are another group that should experience no change.
"Those who are reliant on Medicare need not be concerned, either," Mary Agnes Carey of Kaiser Health News told me. "Medicare has its own separate enrollment period. It starts in just a couple of weeks. The Medicare enrollment period is if you want to switch within Medicare to a different plan. … But regarding the Affordable Care Act and the health insurance exchanges, you don't have to do anything."
The ACA as implemented bears little resemblance to the fears that were once expressed in fierce opposition. Typical was an event that occurred Aug. 2, 2009, when Kathleen Sebelius, secretary of Health and Human Services, and Sen. Arlen Specter faced a raucous crowd at the National Constitution Center prior to the passage of Obamacare. On that summer Sunday, an overflowing crowd booed and jeered the duo. The Philadelphia Inquirer reported that a group in the back continually disrupted the gathering with shouts of "Assisted suicide," "Abortion," and, of course, "Socialism." One photograph shows a sign that said, "Welcome to the United States Socialist Republic."
On Friday, I asked Sebelius whether those complaints bore any resemblance to what has just been implemented.
"Well, it actually, Michael, couldn't be further from socialism," she told me. "These are private insurance plans being sold in a very competitive market. So one of the things the Affordable Care Act has done is to create a market. We had monopolies in many states for people who were in the so-called individual market — one company selling whatever they wanted and actually very few consumer protections. So, many of the people now eligible for not only financial assistance from the federal government, but insurance products for the first time, have the same kind of easy way to shop that people could shop for a television and look at an amazon.com website."
The further irony is that those who were quick to level the "socialist" charge were advocating for the right of people to remain uninsured and burden everyone else, which CNN's Jake Tapper recently raised with Sen. Mike Lee, R-Utah: "When did Republicans start saying, 'That's OK, you can freeload'?"
"I don't think that's a fair characterization of the Republican position on this at all," Lee replied.
Tapper responded: "If you're against the individual mandate, or any sort of requirement that people have health insurance, then that is your position."
The only liberty interest being sacrificed under the ACA is one's ability to be uninsured. And even that is violable. Carey reminded me that you can still exercise your right to be uninsured, but you will pay a fine.
Only time will tell if the "affordable" portion of the act's title is warranted. In a Time magazine piece in February, Steve Brill explained that the disparity in health-care costs was often dependent upon who was paying the bill, and argued that we need government regulation of pricing. He worries that Obamacare is all about who pays rather than how much is paid. It's much too soon to know if it will work, and surely it will be tweaked. The only thing for certain is what it isn't — socialism.
(Michael Smerconish writes for The Philadelphia Inquirer. Readers may contact him via http://www.smerconish.com.)
How the Health Care Law is Making a Difference for the People of Pennsylvania
Because of the Affordable Care Act, the 88% of Pennsylvanians who have insurance have more choices and stronger coverage than ever before. And for the 12% of Pennsylvanians who don't have insurance, or Pennsylvania families and small businesses who buy their coverage but aren't happy with it, a new day is just around the corner.
Soon, the new online Health Insurance Marketplace will provide families and small businesses who currently don't have insurance, or are looking for a better deal, a new way to find health coverage that fits their needs and their budgets.
Open enrollment in the Marketplace starts Oct 1, with coverage starting as soon as Jan 1, 2014. But Pennsylvania families and small business can visit HealthCare.gov right now to find the information they need prepare for open enrollment.
The health care law is already providing better options, better value, better health and a stronger Medicare program to the people of Pennsylvania by:
Better Options
The Health Insurance Marketplace
Beginning Oct 1, the Health Insurance Marketplace will make it easy for Pennsylvanians to compare qualified health plans, get answers to questions, find out if they are eligible for lower costs for private insurance or health programs like Medicaid and the Children's Health Insurance Program (CHIP), and enroll in health coverage.
By the Numbers: Uninsured Pennsylvanians who are eligible for coverage through the Marketplace.
1,242,350 (12%) are uninsured and eligible
928,243 (75%) have a full-time worker in the family
491,258 (40%) are 19-34 years old
864,180 (70%) are White
201,028 (16%) are African American
114,374 (9%) are Latino/Hispanic
33,494 (3%) are Asian American or Pacific Islander
707,872 (57%) are male
1,141,720 (92%) of Pennsylvania's uninsured and eligible population may qualify for either tax credits to purchase coverage in the Marketplace or for Medicaid if Pennsylvania takes advantage of the new opportunity to expand Medicaid coverage under the Affordable Care Act.
Pennsylvania has received $34,832,212 in grants for research, planning, information technology development, and implementation of its Health Insurance Marketplace.
New coverage options for young adults
Under the health care law, if your plan covers children, you can now add or keep your children on your health insurance policy until they turn 26 years old. Thanks to this provision, over 3 million young people who would otherwise have been uninsured have gained coverage nationwide, including 91,000 young adults in Pennsylvania.
Ending discrimination for pre-existing conditions
As many as 5,489,162 non-elderly Pennsylvanians have some type of pre-existing health condition, including 656,877 children. Today, insurers can no longer deny coverage to children because of a pre-existing condition, like asthma or diabetes, under the health care law. And beginning in 2014, health insurers will no longer be able to charge more or deny coverage to anyone because of a pre-existing condition. The health care law also established a temporary health insurance program for individuals who were denied health insurance coverage because of a pre-existing condition. 6,779 Pennsylvanians with pre-existing conditions have gained coverage through the Pre-Existing Condition Insurance Plan since the program began.
Better Value
Providing better value for your premium dollar through the 80/20 Rule
Health insurance companies now have to spend at least 80 cents of your premium dollar on health care or improvements to care, or provide you a refund. This means that 123,581 Pennsylvania residents with private insurance coverage will benefit from $6,875,277 in refunds from insurance companies this year, for an average refund of $77 per family covered by a policy.
Scrutinizing unreasonable premium increases
In every State and for the first time under Federal law, insurance companies are required to publicly justify their actions if they want to raise rates by 10 percent or more. Pennsylvania has received $5,312,084 under the new law to help fight unreasonable premium increases.
Removing lifetime limits on health benefits
The law bans insurance companies from imposing lifetime dollar limits on health benefits – freeing cancer patients and individuals suffering from other chronic diseases from having to worry about going without treatment because of their lifetime limits. Already, 4,582,000 people in Pennsylvania, including 1,769,000 women and 1,136,000 children, are free from worrying about lifetime limits on coverage. The law also restricts the use of annual limits and bans them completely in 2014.
Better Health
Covering preventive services with no deductible or co-pay
The health care law requires many insurance plans to provide coverage without cost sharing to enrollees for a variety of preventive health services, such as colonoscopy screening for colon cancer, Pap smears and mammograms for women, well-child visits, and flu shots for all children and adults.
In 2011 and 2012, 71 million Americans with private health insurance gained preventive service coverage with no cost-sharing, including 3,151,000 in Pennsylvania. And for policies renewing on or after August 1, 2012, women can now get coverage without cost-sharing of even more preventive services they need. Approximately 47 million women, including 2,121,806 in Pennsylvania will now have guaranteed access to additional preventive services without cost-sharing.
Increasing support for community health centers
The health care law increases the funding available to community health centers nationwide. In Pennsylvania, 40 health centers operate 250 sites, providing preventive and primary health care services to 637,928 people. Health Center grantees in Pennsylvania have received $76,898,778 under the health care law to support ongoing health center operations and to establish new health center sites, expand services, and/or support major capital improvement projects.
Community Health Centers in all 50 states have also received a total of $150 million in federal grants to help enroll uninsured Americans in the Health Insurance Marketplace, including $4,196,333 awarded to Pennsylvania health centers. With these funds, Pennsylvania health centers expect to hire 76 additional workers, who will assist 74,886 Pennsylvanians with enrollment into affordable health insurance coverage.
Investing in the primary care workforce
As a result of historic investments through the health care law and the Recovery Act, the numbers of clinicians in the National Health Service Corps are at all-time highs with nearly 10,000 Corps clinicians providing care to more than 10.4 million people who live in rural, urban, and frontier communities. The National Health Service Corps repays educational loans and provides scholarships to primary care physicians, dentists, nurse practitioners, physician assistants, behavioral health providers, and other primary care providers who practice in areas of the country that have too few health care professionals to serve the people who live there. As of September 30, 2012, there were 231 Corps clinicians providing primary care services in Pennsylvania, compared to 62 in 2008.
Preventing illness and promoting health
As of March 2012, Pennsylvania had received $29,600,000 in grants from the Prevention and Public Health Fund created by the health care law. This new fund was created to support effective policies in Pennsylvania, its communities, and nationwide so that all Americans can lead longer, more productive lives.
A Stronger Medicare Program
Making prescription drugs affordable for seniors
In Pennsylvania, people with Medicare saved nearly $464 million on prescription drugs because of the Affordable Care Act. In 2012 alone, 222,703 individuals in Pennsylvania saved over $168 million, or an average of $753 per beneficiary. In 2012, people with Medicare in the "donut hole" received a 50 percent discount on covered brand name drugs and 14 percent discount on generic drugs. And thanks to the health care law, coverage for both brand name and generic drugs will continue to increase over time until the coverage gap is closed. Nationally, over 6.6 million people with Medicare have saved over $7 billion on drugs since the law's enactment.
Covering preventive services with no deductible or co-pay
With no deductibles or co-pays, cost is no longer a barrier for seniors and people with disabilities who want to stay healthy by detecting and treating health problems early. In 2012 alone, an estimated 34.1 million people benefited from Medicare's coverage of preventive services with no cost-sharing. In Pennsylvania, 1,034,635 individuals with traditional Medicare used one or more free preventive service in 2012.
Protecting Medicare's solvency
The health care law extends the life of the Medicare Trust Fund by ten years. From 2010 to 2012, Medicare spending per beneficiary grew at 1.7 percent annually, substantially more slowly than the per capita rate of growth in the economy. And the health care law helps stop fraud with tougher screening procedures, stronger penalties, and new technology. Over the last four years, the administration's fraud enforcement efforts have recovered $14.9 billion from fraudsters. For every dollar spent on health care-related fraud and abuse activities in the last three years the administration has returned $7.90.

Labor History:
Industrial Workers of the World
The Industrial Workers of the World (IWW), whose members became known as "Wobblies", was founded in 1905 by a group of about 30 labor radicals. Their most prominent leader was William "Big Bill" Haywood. The IWW pioneered creative tactics, and organized along the lines of industrial unionism rather than craft unionism; in fact, they went even further, pursuing the goal of "One Big Union" and the abolition of the wage system. Many, though not all, Wobblies favored anarcho-syndicalism.
Much of the IWW's organizing took place in the West, and most of its early members were miners, lumbermen, cannery, and dock workers. In 1912 the IWW organized a strike of more than twenty thousand textile workers, and by 1917 the Agricultural Workers Organization (AWO) of the IWW claimed a hundred thousand itinerant farm workers in the heartland of North America. Eventually the concept of One Big Union spread from dock workers to maritime workers, and thus was communicated to many different parts of the world. Dedicated to workplace and economic democracy, the IWW allowed men and women as members, and organized workers of all races and nationalities, without regard to current employment status. At its peak it had 150,000 members (with 200,000 membership cards issued between 1905 and 1916), but it was fiercely repressed during, and especially after, World War I with many of its members killed, about 10,000 organizers imprisoned, and thousands more deported as foreign agitators. The IWW proved that unskilled workers could be organized and gave unskilled workers a sense of dignity and self-worth. The IWW exists today, but its most significant impact was during its first two decades of existence.

Tell Congress to Vote 'No' On Any Proposal to Cut U.S. Pensions
America's pensions are under attack. And it could be getting worse.
Right now conservative members of Congress are preparing to introduce a bill that would allow trustees of "deeply troubled" pension plans to cut benefits for people who have already retired. The bill would give Corporate America and others the green light to further slash retirees' payouts and reduce already-earned credits for current workers.
This all comes at a time when more than approximately half of American workers have less than $2,000 saved for retirement. Thirty-five percent of Americans over the age of 65 rely almost entirely on Social Security payments alone. And, only 20 percent of American full-time employees have a defined benefit pension plan.
This nation's pension system is not broken, busted or in need of a radical overhaul that shifts ever more wealth from the nation's middle class to the top one percent.   Click here to tell your Senators and Representative to vote "NO" on any proposal that cuts America's pensions.